loading...
Go Back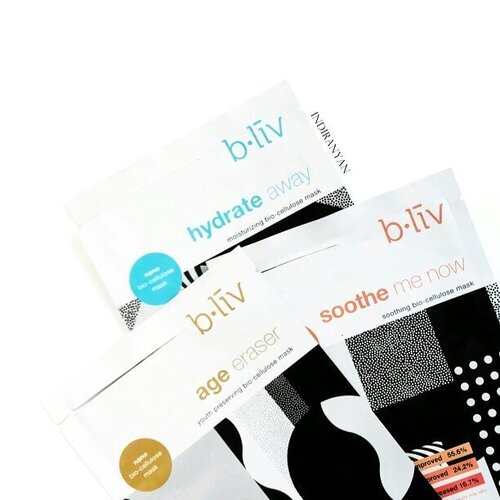 b・liv Bio Cellulose Mask 💻
http://www.indiranyan.com/2017/12/review-bliv-bio-cellulose-mask.html
(Bahasa)
ー
b・liv pronounced as Believe was established in 2009. This brand is focused on pores solution. I got to try each variant of their Bio Cellulose Mask : Hydrate Away, Age Eraser, Soothe Me Now.
Bio Cellulose Mask from @bliv is the most thick of Bio-Cellulose Mask I've tried so far. The mask is sandwiched with protective layer on each side, fabric and thick paper(?) . Essence texture is gel-watery, absorbed quickly without sticky feeling. Adherence was great and I had these mask for 20 minutes. 🎐Hydrate Away (4.5/5)
My skin felt smoothed, plumped and hydrated until next day (I use this at night and next morning I only wipe my face with toner and skip all my skincare) . 🎐Age Eraser (3/5)
I only felt my skin slightly hydrated after using this. 🎐Soothe Me Now (3.5/5)
I smell something only from this variant, the scent is floral (?). This mask is lessen redness on my cheeks and I still feel cooling sensation for 10 minutes after I remove this mask.
Price is 💲35 for 4 pieces which is expensive for my budget for mask. If this mask is on sale for at least 30% I will repurchase Hydrate Away variant because it's my fav!
ー
#clozetteid
#bliv
#blivmask
#skincarecommunity
#skincareblogger
#abcommunity
#abskincare
#beautybloggerid
#indirads
#sheetmaskselfie