loading...
Go Back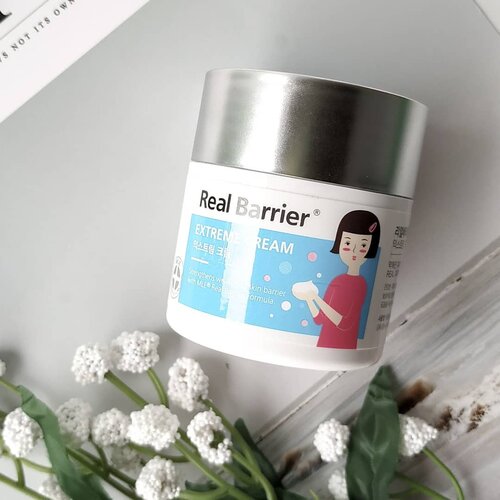 Have a beautiful sunday everyone!!
So, here the last @realbarrier product to review as a part of @stylekorean_indonesia Try Me, Review Me program.
.
While using Real Barrier Extreme Series, a lot of unexpected things keep coming, and one of the most surprising is, my sensitive acne prone & combination to oily skin love this thick balmy texture cream 😂😂😂.
.
Initially, when I opened the cream's cap I immediately underestimated, like "ewww, my skin doesn't like this kind of cream" The balmy & rich texture will usually feel heavy on my skin. But, when I started to touch the surface of the cream it felt very soft and I started rubbing it on my face, it felt pretty comfortable, it wasn't as heavy as I had imagined. Doesn't have the citrusy or fruity scent, the scent is more refreshing there are hints of mint or lozenges.
.
This product is 50gr in size, packaged in a thick plastic jar, this is a limited edition version with an image of @isul she's so cute btw. The lid material is made like aluminum which is easily scratched if dropped or bumped.
.
With 72 hours hydration, features ceramide 9S™ & ceramide 5SP™ to provide superior hydration. Infused with 3 Calming complex to soothe irritated skin.
.
I like to use this product as a night cream, it provides excellent hydration throughout the night without being sticky and too greasy. I'm using this cream along with other Real Barrier products. When I woke up in the morning my face looked fresher, felt smooth and not too oily, indicated that my skin was hydrated through the night. During using this cream I haven't experienced clogged pores or got new acne. This cream is also very good for dealing with redness and irritated skin.
.
If you have dry skin it seems like you will really like this cream.
.
#stylekorean
#stylekorean_global
#realbarrier
#TrymeReviewme
#skincare
#dryskin
#dehydratedskin
#kbeauty
#skincareroutine
#skincarediary
#skincarelover
#skincarecommunity
#beauty
#beautycommunity
#clozetteID
#beautyblogger
#sensitiveskin
#dryskin
#skinbarrier
#koreanbeauty
#hydrating