loading...
Search
5 RESULTS FOR CICALOEWATERSOOTHINGCREAM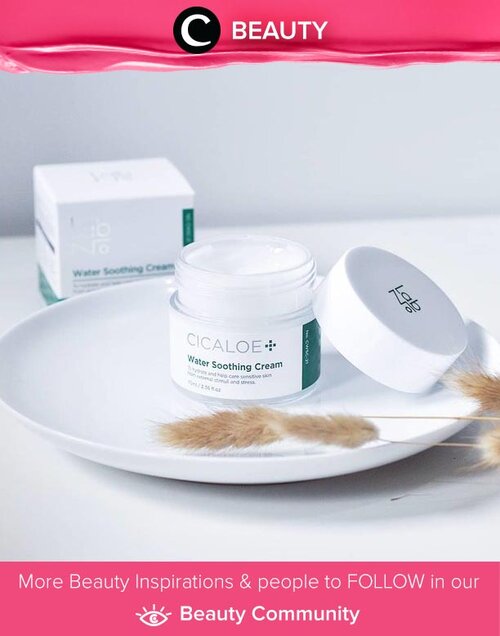 Sedang mencari moisturizer yang ampuh untuk melindungi kulitmu di negara beriklim tropis? Kamu bisa mencoba Labno Cicaloe Water Soothing Cream dengan kandungan Centella Asiatica dan Aloe Barbadensis Leaf yang mampu menjaga hidrasi kulit sekaligsu merupakan antioksidan. Image shared by Clozette Ambassador @wennykyuuto. Simak Beauty Update ala clozetters lainnya hari ini di Beauty Community. Yuk, share produk favorit dan makeup look kamu bersama Clozette.

+ View more details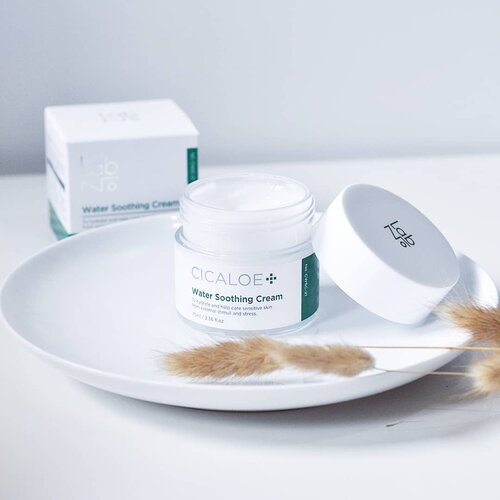 PERFECT MOISTURIZER FOR HUMID & WARM CLIMATE!
You know how hot the weather in Indonesia is nowadays, and when I kept using my thick AM moisturizing cream I used to love, my skin feels so greasy.
So I was really excited to try this @labno__official Cicaloe Water Soothing
#Cream
from @hicharis_official!
Texture: the fresh, light-gel texture is so lovely to wear daily, it absorbed quickly without any greasy layer.
Main ingredients are the main thing that caught my attention: Centella Asiatica (Cica) Extract and Aloe Barbadensis Leaf Juice as their 2nd and 3rd ingredients!
Cica is already well-known for its healing properties. With its abilities in reducing inflammation, speed-up the wound-healing process, increasing hydration level, and repairing skin's protective barrier with its antioxidant.
Aloe Vera is also a highly anti-inflammation ingredient. But because it also has enzymes, I can't use 'pure' aloe vera gel alone as a moisturizer.
This wonderful light gel moisturizer also contains glycerin, sodium hyaluronate, hyaluronic acid and ceramide.
Sadly, it also contains some irritating ingredients, such as: Orange peel oil, Bitter Orange oil, Lavender Oil & Eucaliptus Globulus Leaf Oil. So don't forget to patch test!
Performance: I've just tried it for a week, before I tried it, I have some bumps about to come out on my chin (thanks PMS!) but now it's gone! SWIPE TO SEE before-after ➡️ I got another bump in return though, but seems likely it won't turn into pimple.
And the other thing, my skin looks so dewy, but when I touch it (I know I should stop touching my face, but if I do my daughter will do it anyway lol) it's completely matte! ME LIKEY!
I'm still gonna try it for a bit longer to see how it really works on my sensitive skin. Will post the result on my blog for the further result, so stay tune!
In the meantime if you wanna try this fresh and light (and powerful!)
#Labno
#CicaloeWaterSoothingCream
, you can visit my @charis_celeb shop at:
https://hicharis.net/wennykyuuto/IfG
or click
#linkinbio
to get special price from IDR 365k to 318k.
#hicharis
#charisceleb
#charisshop
#ClozetteID
#clozetteambassador
#aestheticaccount
#minireview
#skincare

+ View more details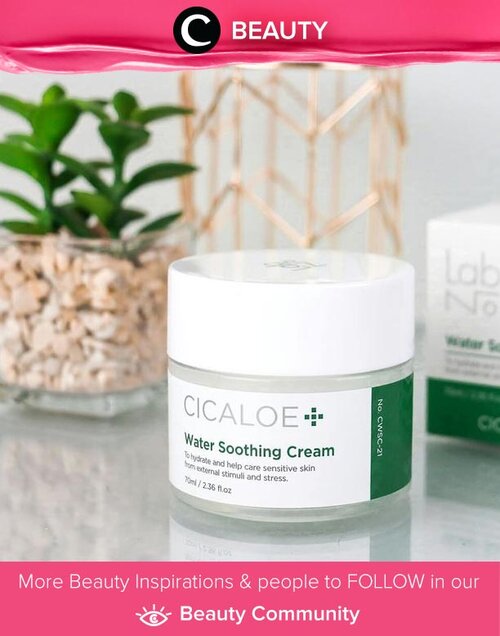 Pemilik kulit sensitif pasti suka dengan skincare bertekstur gel yang terasa sejuk dan nyaman ketika diaplikasikan! Coba intip Labno Cicaloe Water Soothing Cream ini. Memiliki aroma lemon grass, produk ini tak meninggalkan rasa berminyak maupun lengket. Image shared by Clozetter @gadzotica. Simak Beauty Update ala clozetters lainnya hari ini di Beauty Community. Yuk, share juga beauty product favoritmu bersama Clozette.

+ View more details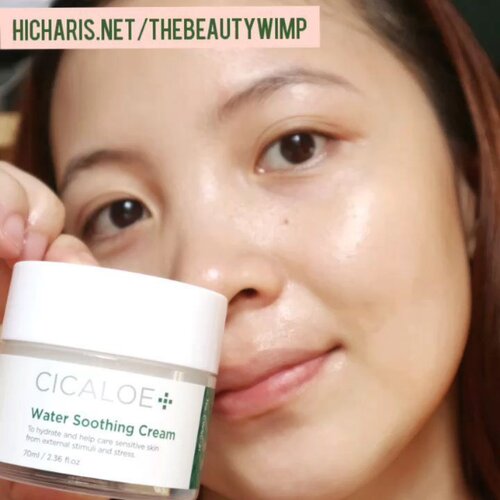 𝗟𝗮𝗯𝗻𝗼 𝗖𝗶𝗰𝗮𝗹𝗼𝗲 𝗪𝗮𝘁𝗲𝗿 𝗦𝗼𝗼𝘁𝗵𝗶𝗻𝗴 𝗖𝗿𝗲𝗮𝗺It is a cream-gel moisturizer that's light in texture and sinks in to the skin nicely with no residue.Opening up the jar, i can smell a lovely scent of tea tree and its somehow so relaxing.It spreads easily and you don't need to use too much of it either. Ingredients-wise, I spotted Centella Asiatica and Aloe Vera Juice at the top 5 ingredients. It contains some EOs that sensitive skins fellow would like to avoid, such as : lavender oil, rosemary oil.It does not feel greasy at all even if u wear it during the hot day. For morning moisturizer, the hydration is right to its portion for my skin type. It feels so soothing when applied, it gives you a relaxing cooling sensation that I desperately need in this bad humid weather. And since it absorbs quickly, it is easy to use this underneath make up. However, i need a thicker consistency at night! The cream is silicone-free, that is why it can't hold the moisture for too long during my sleep.If you're on the look out for a light soothing moisturizer , you might want to check it out :𝗖𝗶𝗰𝗮𝗹𝗼𝗲 𝗪𝗮𝘁𝗲𝗿 𝗦𝗼𝗼𝘁𝗵𝗶𝗻𝗴 𝗖𝗿𝗲𝗮𝗺 𝟳𝟬 𝗺𝗹
https://hicharis.net/thebeautywimp/GKb
#Labno
#CicaloeWaterSoothingCream
#cream
#hicharis
@hicharis_official @charis_celeb
+ View more details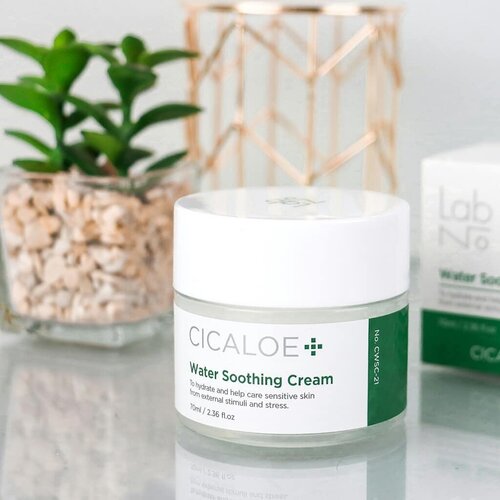 Sekalinya update aku langsung sebar racun terbaru~~ Baru-baru ini aku nyobain @labno__official Cicaloe Water Soothing Cream yang diformulasikan untuk kulit sensitif. Biarpun namanya Soothing Cream, tapi teksturnya lebih ke arah gel. Waktu diratakan terasa sejuk di kulit dan gampang meresap. Muka terasa lembab dan halus tapi nggak berminyak/ lengket. Bagiku aromanya sekilas seperti aroma lemon grass/ serai yang bikin rileks.
Produk ini formulanya hypoallergenic dan mengandung Aloe Vera Leaf Water, Centella Asiatica, dan Madecassoide yang bagus untuk kelembaban kulit. Selama 10 hari mencoba, aku nggak merasakan timbul whiteheads, jerawat, atau alergi. Sejauh ini nyaman banget dipakai tiap pagi dan malam. Aku akan teruskan pakai produk ini sampai 1 bulan. Nanti aku update hasilnya gimana dan reviewnya akan kutulis di blogku, gadzotica.com
Info tentang Cicaloe Water Soothing Cream atau yg mau langsung nyobain, bisa mampir ke Charis Shop-ku
https://hicharis.net/gadzotica/GEu
(clickable link di bio)
#Labno
#CicaloeWaterSoothingCream
#cream
#hicharis
@hicharis_official @charis_celeb
#sbybeautyblogger
#beautybloggerid
#beautyinfluencer
#surabayainfluencer
#productphotography
#beauty
#kbeautyskincare
#sensitiveskin
#sensitiveskincareproducts
#review
#Clozetteid
+ View more details
loading ...
Back To Top