loading...
Search
1,896 RESULTS FOR DRY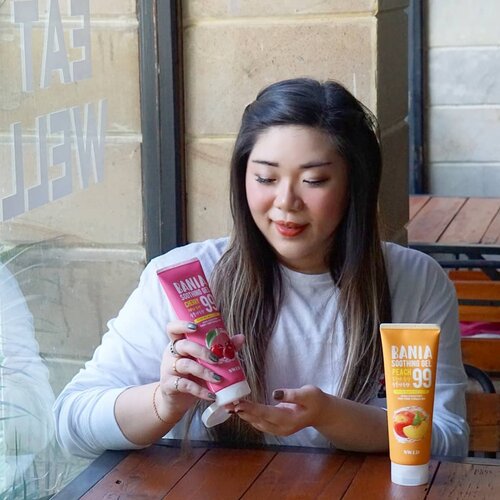 Hot summer days are coming, and if you live in a tropical country with high humidity level like me, the last thing you want to use is overly rich, heavy and greasy products. That's why i'm super excited to have this @swld_korea Bania Soothing Gel to soothe and hydrate my skin.
The best thing about this product? It is a head to toe, all in one gel that can be used everywhere on your body! From your hair to your face and body!
I got to try the peach (which is made from 99% peach extract) and Cherry (also made with 99% cherry extract) which i like equally, also available in Aloe Vera and Tomato.
Like its name suggested, the texture is true gel (will share details on my next post), very soothing and cooling on the skin, gets absorbed really quick, leave no stickiness nor greasiness behind but able to give hydration and softness to my skin (but for very dry skin, you need to use other moisturizier on top because i personally don't think it would be enough for your skin on its own) with some fruit sweetness scent while at it.
It is also pretty affordable for the size (250ml each) and don't forget to get it only from my Charis Shop (Mindy83) or type
https://bit.ly/swldbaniaMindy83
for a special price!
#charisceleb
#swld
#baniasoothinggel
#swldbania
#swldbaniasoothinggel
#reviewwithMindy
#kbeauty
#koreanskincare
#koreanbeauty
#bodycare
#koreancosmetics
#kcosmetics
#clozetteid
#sbybeautyblogger
#beautynesiamember
#bloggerceria
#bloggerperempuan
#bbloggerid
#indonesianfemalebloggers
#review
#influencer
#beautyinfluencer
#SURABAYABEAUTYBLOGGER
#endorsement
#endorsementid
#endorsersby
#girl
#openendorsement
#beautysocietyid
#itsbeautycommunity
+ View more details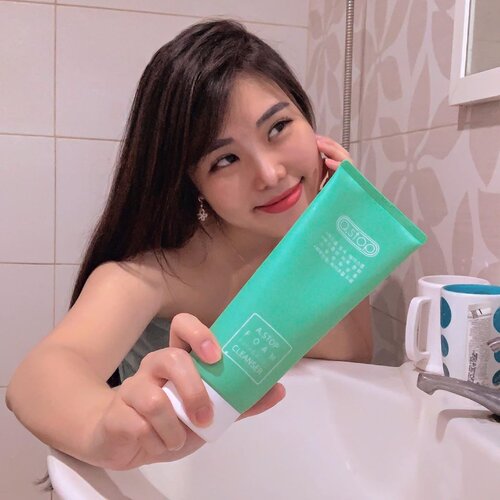 [SWIPE FOR BEFORE AFTER RESULT]
Here it is! The facial & body foam cleanser for acne skin from @a.stop2man ! I prove it by myself that this actually works to calm down acnes and redness!
⭐️ Decent tea tree scent.
⭐️ Only need few drops for whole face & body.
⭐️ Non-sticky feeling.
⭐️ Calm down redness & acnes in 5 days.
⭐️ Perfect for any skin type.
.
Fyi, I'm a dry skin survivor but this cleanser doesn't harm my skin at all.
.
Try it now from @hicharis_official , simply go to this link and get special price for this product!
.
http://hicharis.net/chelsheaflo/MT9
.
.
.
#beautyreview
#charisceleb
#hicharis
#astopman
#collaboratewithcflo
#ClozetteID

+ View more details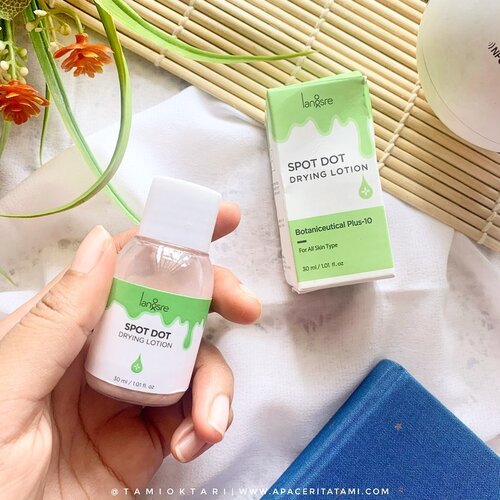 Cobain produk terbaru @langsre.id Spot Dot Drying Lotion yang digunakan untuk obat totol jerawat. Produk ini bisa digunakan untuk membantu mengeringkan jerawat dan mencegah jerawat kedepannya.Langsre Spot Dot berukuran 30 ml ini mengandung• Calamine Powder untuk menenangkan kulit dan mengurangi peradangan/inflamasi jerawat• Alcohol untuk mematikan bakteri yang menyebabkan jerawat• Glycolic acid, Salixylic acid dan Citric acod untuk mempercepat penggantian sel kulit baru sehingga ketawat lebih cepat sembuh.Produk ini udah ada BPOM nya, insyaallah aman. Untuk pemakaiannya, botol jangan dikocok. Jadi akan ada 2 lapisan, alkohol dan pink powder (endapan). Nah endapannya itu yang bakal digunakan untuk di totol ke jerawat menggunakan cotton bud.Aku udah pakai obat totol ini untuk mengobati jerawat di dagu yang memerah banget. Hasilnya, jerawat mengempes. Cek foto before-afternya di slide 4 ya 👍.
#LangsreSpotDot
#spottreatment
#acneskin
#ClozetteID

+ View more details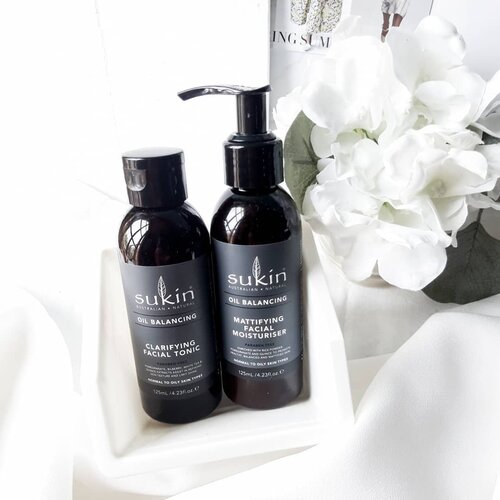 Eid Mubarak! ✨✨ I used a few products from Sukin, an Australian made skincare brand. Their formulations are kind to skin and kind to earth.Sukin Oil Balancing Clarifying Facial Tonic, a perfect product for post-cleanse balance and refinement. A blend of White Tea and Quince Extract assist to revitalise the appearance of oily skin, tighten pores and help to limit shine. Pomegranate & Bilberry Extracts promote a balanced complexion while Aloe Vera, Chamomile and Cucumber encourage soothed, calmed skin.The smell of the toner is fresh citrus mix with others cause it has essential oils at the bottom of the ingredients list. It does not have color and the texture is really watery. I like to use this toner in the morning its really good because the oil-balancing really works on me. It also can be used as a post-cleanse, when my skin feels dry or dehydrated this toner is not so hydrating so I use a thicker hydrating toner.Sukin Mattifying Facial MoisturiserThis moisturiser is enriched with Rice Powder, Pomegranate and Quince to promote healthy, balanced skin. A blend of Aloe Vera, Chamomile and Willowherb to calm and soothe while providing light hydration. Rooibos Tea, Moringa, & Willowherb Extracts encourage skin revitalisation and refreshes acne-prone skin.From the moisturizer, it gives a moist feeling thats not stuffy on my face. It gives a matte finish but doesn't feel tight. Give enough moisture. It smells almost like the toner but is softer. The moisturizer also doesn't make my skin feel heavy when Im using it and sit well under my usual sunscreen & makeup. I prefer to use this for morning, for PM routines I use another product which is more occlusive. Swipe for the texture.Have you tried any Sukin products?❤❤
+ View more details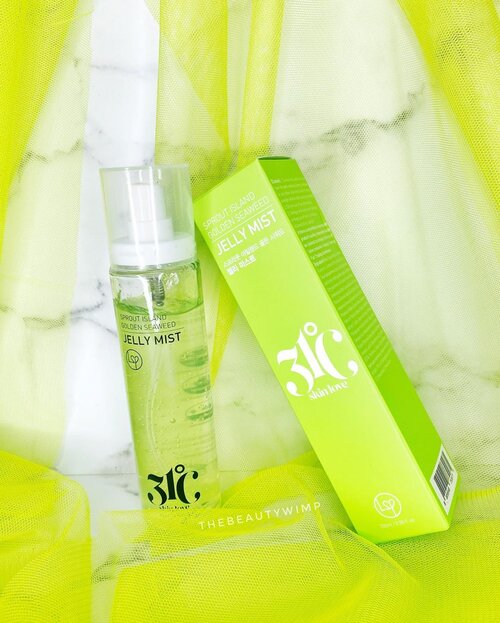 + View more details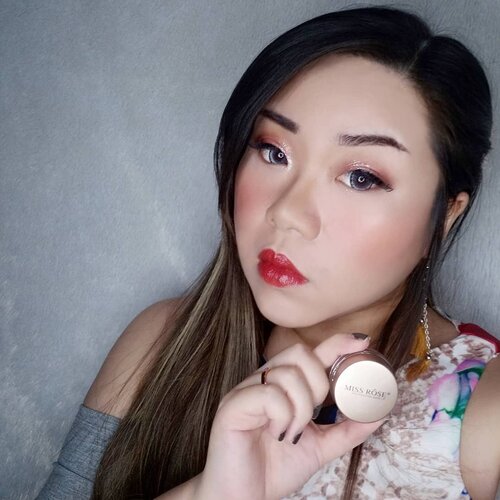 + View more details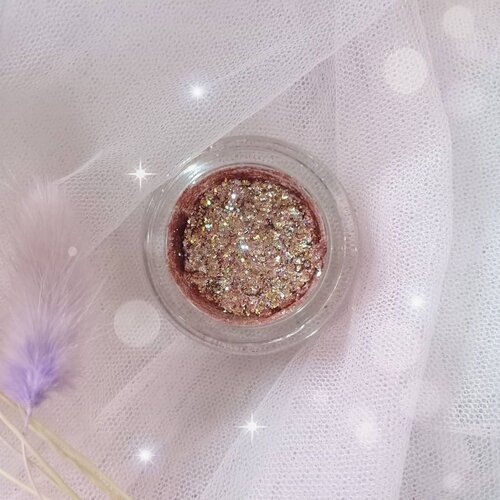 This post is dedicated to all glitter-obsessed out there (i firmly count myself as one ofc, it's pretty much a must as i consider myself a unicorn mermaid breed). I have a thing for super shiny and glittery shadow in the middle/inner part of my eyes, it just brings the eye makeup to a whole different level.
Recently had the pleasure to try this @missrose.indonesia Eye Glitter Colorfull in 04 Amor de Verano, Miss Rose is a Chinese cosmetic brand that has recently officially available in Indonesia (their products are BPOM certified already. I forgot to include the mica box's pic that has the registered number in it, i'll make sure to feature it in the next post) and has excited and pretty products.
The Eye Glitter Colorful is actually a dry cream type of glitter, what i mean is the glitter is definitely not wet but it is held together and this is not a loose glitter situation so you don't have to worry about messy glitters flying everywhere whenever you open the lid. It comes in a nice jar packaging that has some weight to it so it feels pretty high quality.
The shade Amor de Verano is a beautiful rose gold glitter mainly, but as you can see from the swatch, it has some rainbow micro glitter in the mix. It's a bit hard to see its full potential in a hand swatch because this type of slightly chunkier glitter is meant as a topper and you have to apply base color to make it pop - which i will show you in the next post.
I enjoy this glitter quite a lot, the shade is very wearable and complimentary to use with various different eyeshadow colors. It is chunky but not as coarse as some other chunky glitters i tried before and it doesn't scratch my sensitive eyelids.
Stay tuned for some eye makeups with it!
#reviewwithMindy
#missrose
#missroseindonesia
#glitter
#glittereyeshadow
#glittermakeup
#missrosemakeup
#missroseofficial
#missrosecosmetics
#clozetteid
#sbybeautyblogger
#beautynesiamember
#bloggerceria
#beautysocietyid
#bloggerperempuan
#bbloggerid
#indonesianfemalebloggers
#review
#influencer
#beautyinfluencer
#SURABAYABEAUTYBLOGGER
#endorsement
#endorsementid
#endorsersby
#openendorsement
#itsbeautycommunity
#makeup
#makeupaddict
#makeupjunkie
#girl
+ View more details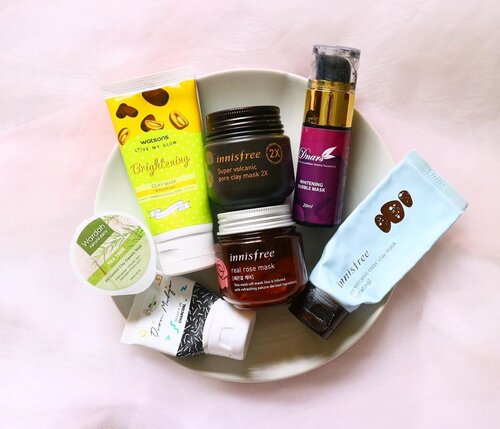 SEVEN DAYS WASH OFF MASK CHALLENGE 👧🏻 It took me for a while to do this because quarantine makes me lazy then I started this challenge bcus I haven't really take care of my skin so my face have been rough, having acne here and there, then also dull. here is the
#7daysmaskchallenge
that I did straight for 7 days 😌 🌹
#day1
@innisfreeofficial Super volcanic Pore Clay Mask 2x
#day2
Innisfree Real rose mask
#day3
Inndisfree Jeju volcanic color clay mask hydrating
#day4
@wardahbeauty Oil Control Clay Capsule Mask
#day5
@watsonsindo Brightening Clay Mask
#day6
@dnarsindonesia Whitening Bubble Mask
#day7
@theaesthetics_id x Dion Mulya Bright it on Charcoal Mask _🌼 the result:After seven days of masking, I could notice that my pore feel clean but it isn't drying. As some of you know, using wash off mask could strip off the natural oil in your skin but not all of them giving the same result after usage. That's why if today I use wash off mask for deep cleaning the pores, the next day I will go with the hydrating one. That way I can keep my skin well balance and hydrate. Not only that but also the texture of my skin has improved. The dead skin have been lifted and it creates smoother and firmer condition after a week. Unfortunately, I don't see improvement in the leftover acne spots. Another thing for sure, my acne also become calmer and it dry faster than usual 💁🏻‍♀️ ....
#ellskincaregame
#clozetteid
#idskincare
#idskincarecommunity
#skincareflatlay
#skincaretexture
#skincareblogger
#abcommunity
#innisfree
#koreanskincare
#wardah
#skincareroutine
#asianskincare
+ View more details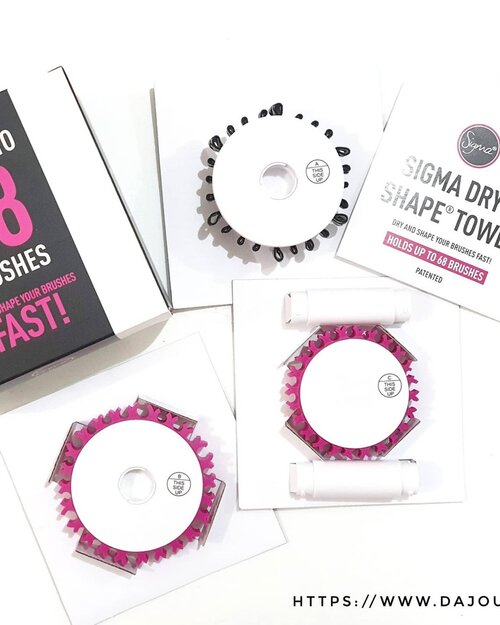 Sejak mengenal kuas premium, saya jadi nggak bisa nggak beli perawatannya, mulai dari brush cleanser, brush holder dan sekarang saya beli sigma dry and shape tower yang bisa muat 48 kuas sekaligus.Ya walaupun belum sampai sebanyak itu sih kuas @sigmabeauty saya 😝 jadi tower ini tu terdiri dari 3 bagian, yang paling bawah tu bagian holdernya terbuat dari karet yang bisa melar mengikuti besaran kuas kita, fungsinya untuk bagian bulunya, biar bentuknya nggak berubah walau dicuci. Bagian ke dua dan ketiga untuk menjepit gagang brushnya, bahannya silikon gitu jadi nggak elastis, tapi ukuran silikonnya ga sama, ada besar, kecil dan sedang.Yang aku punya ini yang eye brush ya, jadi ga bisa buat powder brush atau foundation brush karena kegedean, ga masuk kalau dipaksain juga. Tapi ada kok sigma yang lengkapnya namanya Full Set, yang muat 92 kuas dan terdiri dari 5 tower.Emang pake ini beneran cepet kering win? Nggak karena tergantung cuaca, kalau mendung ya lembab gitu, tapi yang saya rasakan sih kuas jadi lebih awet dan bentuknya lebih terjaga.Kalau lagi mendung biasanya aku bantu pake kipas angin biar cepat kering, ada yang tertarik dibikinkan videonya nggak?
#sigmabeauty
#clozetteID
#sigmadrynshape
#brushcare
#flatlayfriday
#brushcollection
#SOCOBeautyNetwork
+ View more details
loading ...
Back To Top