loading...
Search
2 RESULTS FOR MUSTELASTELATOPIA!!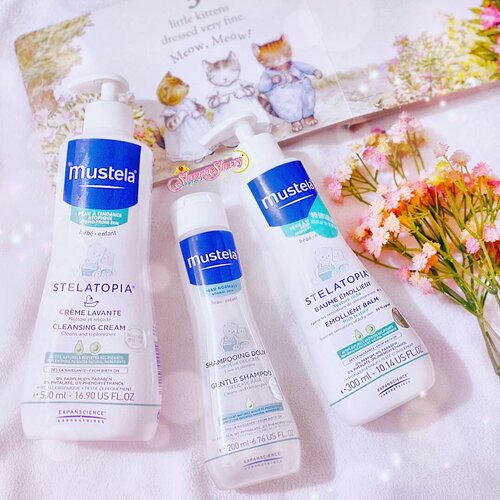 Alhamdu Lillaah for
#MustelaStelatopia!!
😆💙 — Been using these products from the Stelatopia range + the basic shampoo (because no stelatopia shampoo) since our
#ZaydenTheArchie
was 4 months old, until today (20 months).😊💙😊💙😊💙🙏🏻🙏🏻🙏🏻🙏🏻.We had been really worried about Archie's suuuuper dry and eczema-prone skin since he was born, because we didn't seem to find any product that worked for him. However!! It was a beautiful coincidence when I saw a huge poster of Mustela Stelatopia with a very promising and hope-giving tagline for us parents with eczema-prone babies, in front of a baby shop. I just knew this was the answer,I needed to try this, and never regretted it since. Alhamdulillaaah 😭💙😭🙏🏻 Yes, because even the commonly-recommended "Basic" Mustela couldn't fulfill his skin's needs yet back then. Maybe someday will, when his skin becomes more... stable? (?) 😅.We needed to apply the balm to Archie more than twice a day in drier weather, but usually twice (after each bath time) is enough..We have tried to introduce any other products to his skin. The cheaper the better, and if possible, gives a gentle scent without irritating his skin. But until today we hadn't found any other product that can fully replace them. 😮😧😧 We sometimes use Aveeno Baby Eczema Therapy cream but only for complementary. We also tried Burtsbees Baby wash & nourishing lotion (which scent made us fall in love) but too bad his skin hadn't approved yet (we actually wish his skin will approve someday, because the scent is heavenly lol! 😅 Mustela Stelatopia had no fragrance at all, and I don't really like the scent of the Basic Mustela). You know, it's normal for parents to wish their babies to smell like typical baby perfume, right? but, well, skin health first 🙃😂.For now, we're still gonna stick with these products first. The transition to other products should be very smooth. Actually I don't plan to replace them completely. I want them to be some kinda "backups" when his skin becomes very dry, while using other products with gentle baby scent for daily (the cheaper the better of course 🤪🤩🤓)..
#Mustela
#MustelaBaby
#mustelaindonesia

+ View more details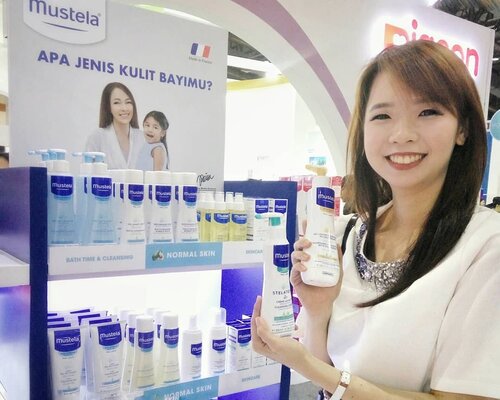 Berkat ikut acara @mustelaindonesia, aku jadi tahu kalau kulit bayi itu beragam jenis. Nggak semua kulit bayi bisa terlahir dalam kondisi normal. Kenapa?1. Lapisan pelindung kulit belum terbentuk sempurna2. Kulit bayi cenderung lebih kering dibanding kulit dewasa3. Stem cell kulit sangat tinggi dan cenderung menurun drastis di usia 0-2 tahun karena faktor luarKulit bayi bisa digolongkan ke dalam 3 jenis:- Kulit normal: lembut, lembab, dan bersih- Kulit kering: kasar, bersisik, dan kadang terkelupas- Kulit atopic: sangat kering, gatal, dan kadang ada bercak kemerahanDari sini pun aku menyadari kalau kulit anakku juga unik. Di bagian kakinya seringkali kedapatan kering dan sedikit bersisik. Waktu itu sampai berobat ke dokter karena takut salah pilih produk. Setelah tahu Mustela punya produk ampuh buat bayi dengan kulit kering, aku juga jadi pengen coba produknya yang Hydra Bebe Cleansing Gel. Sekarang aku udah tahu jenis kulit bayiku, gimana dengan moms?
#ApaJenisKulitBayimuBtw
, kemarin ini aku juga sempat kena radang kulit di area lengan dan leher. Dokter menyarankan pakai Mustela Stelatopia Cleansing Cream dan terbukti ampuh membantu menyembuhkan radang kulitku, selain menggunakan obat yang diresepkan. Thank you @mombloggercommunity for having me.
#mustelaindonesia
#mustelaxMBC
​​​
#kulitnormal
#kulitkering
#perawatankulitbayi
​​​​
#MustelaBabyProduct
​​​​
#kulitatopik
​​​​
#dermatitisatopik
​​
#babyskincare
#mustelastelatopia
#mustelabebe
#clozetteid

+ View more details
loading ...
Back To Top