loading...
Search
10 RESULTS FOR AUZOLAMAKEUPCHARACTER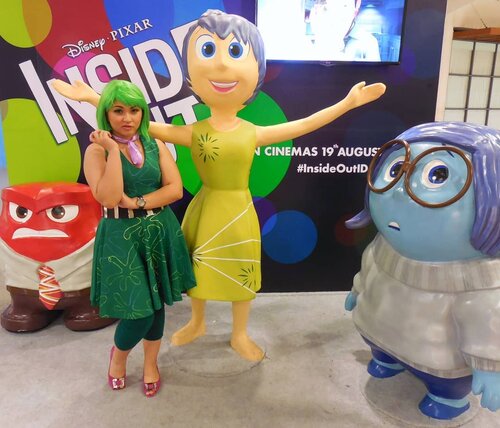 + View more details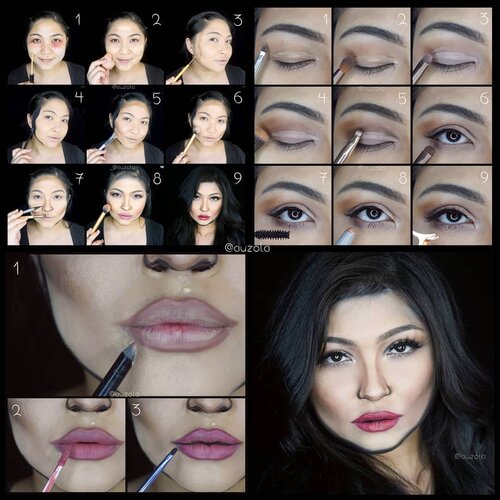 #auzolatutorial
#auzolamakeupcharacter
Kylie Jenner Makeup Tutorial.P.s I add as I goes for this, karena pas dicoba di kamera kaya masih kurang. Tp ya ga di foto buat tutorial lagi setelahnya krn udah buru2. Baca step no.9..🌟Face🌟1. Pakai concealer.2. Tutupi dng foundation.3. Outline wajah dng contour (kalo wajah udah kotak kaya Kylie tinggal shading aja).4. Pakai face paint hitam dibagian luar outline unt membentuk bentuk wajah yg baru.5. Contour wajah biar tirus cem Kylie, jidat jg krn Kylie jidatnya ga gitu lebar.6. Baking wajah dng powder buat menonjolkan bagian2 wajah (undereye, pipi, jidat, dagu).7. Gambar bentuk hidung baru dng eyeliner & contour.8. Tambahkan eyemakeup & lipstick. Buat anak rambut fake pakai eyeliner & face paint. Lalu tambahkan blush on.9. Sisanya, pakai tambahan stacking bulu mata palsu, lip color dirubah, alis+shading2 wajah dipertegas (tambahan facepaint hitam jg biar lebih kotak wajahnya), dan pas foto hidungnya dikempotin biar lebih Kylie hahaha😂.🌟Eyes🌟(Bisa beda sesuai bentuk mata masing2)1. Buat alis, agak menukik & ga terlalu tebal.2. Gunakan coklat muda di keseluruhan kelopak.3. Tambahkan nude pink di bagian depan & tengah.4. Blend bagian luar kelopak dng warna coklat yg lebih gelap.5. Tambahkan coklat tua pada garis kelopak biar lebih dalam & kelihatan garis kelopaknya.6. Pakai eyeliner tipis2, tambahkan eyeshadow coklat tua di ujung luar mata bawah & nude pink di bagian depan.7. Gunakan mascara, banyakin di bagian bawah, bisa tambah dng garis membentuk bulu mata menggunakan eyeliner.8. Kasih shimmery di waterline & ujung dalam mata.9. Pakai eyelashes. Saat foto2, eyelashesnya aku stacking lagi, nambah satu bulmat yg lebih tebal biar lbh kelihatan kamera, krn bulmat nya Kylie kan cetar tu..🌟 Lips🌟1. Pakai lip liner unt membentuk tampilan bibir berbeda.2. Pakai warna lipstick sesuai keinginan.3. Buay garis dalam bibir dng lipstik hitam/eyeliner hitam, biar terlihat lebih full. Terakhir warna lipsticknya aku ubah jadi lebih gelap dng ditimpa warna merah & tambah gloss di tengah2 bibir. ..🌟🌟Style rambut: BOUNCY THICK HAIR MAKES A HUGE DIFFERENT IN MAKING THIS LOOK.
+ View more details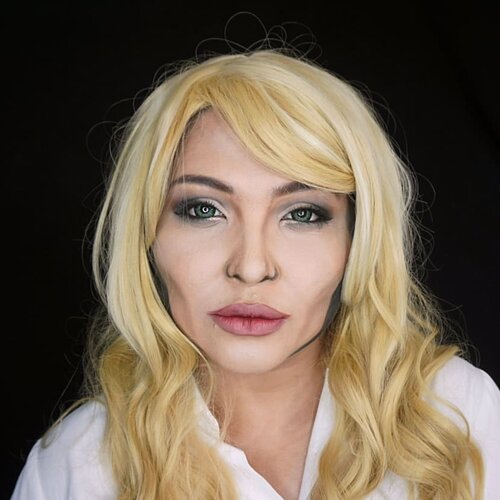 + View more details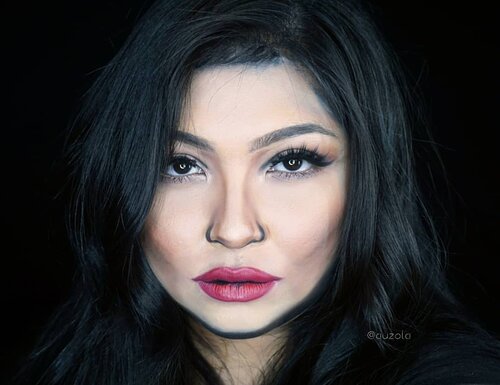 + View more details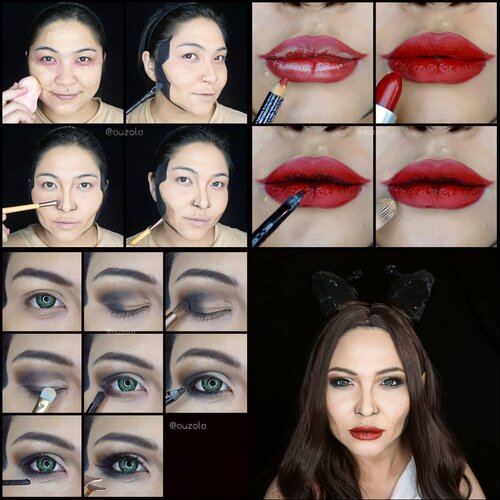 Maleficent Makeup Pictorial:
(Swipe)
#auzolatutorial
#auzolamakeupcharacter
.
🌟STEP 1:
1. Conceal & put some foundation like usual.
2. Start making traces with regular shading, how you want your face to look like. Then you cover the outer part of the tracing line using black/dark brown facepainting. I have a really chubby face, so extra shading with face painting is necessary to gain this look. If you already have a face structure similar to Jolie's then you only have to do the shading part.
3. Shading your nose with regular contour & also add a little eyeliner to make the nose appear smaller but taller around the nostril.
4. Last, do the shading again on your cheek, jaws and around mouth area. Bcs the first shading is to recreate a whole new face structure & this make it bolder. You need those skinny looking jaw, So contour like crazy 😁
.
🌟STEP 2:
1.Create a slightly thin eyebrow. Then if needed, use eyelid tape to achive Jolie's eyelid. I have a hooded eyes, so I used around 2.5 eyetape. Make the eyelid bigger in the front and smaller in the end. Praise God if you already have those pretty eyelid 🙌
2.Apply brown eyeshadow all over the eyelid and mix it with darker brown.
3.Add black eyeshadow in the outer v corner & blend to the front and back.
4.Add cream eyeshadow on the center and blend a little. Also add a little on the brow bone.
5.Use black on the lower eyelashes.
6.Add black eyeliner to create more dimension of this kinda smokey eyes.
7.Apply mascara for upper and lower lashes.
8.Use slighty thick and long fake eyelashes.
.
🌟STEP 3:
1.Create a thicker lips using lip liner.
2. Put on red lippy.
3.Shading with black/dark brown lippy to create dimension and achieve fuller lips.
4.Put on some concealer around the lips.
.
DONE! Put the wig & horn 🔥
.
.
.
#angelinajolie
#maleficent
#maleficent2
#sleepingbeauty
#princessaurora
#disney
#disneyliveaction
@disneymaleficent
#wakeupandmakeup
#makeupforbarbies
#indonesianbeautyblogger
#undiscovered_muas
@promisetamang @undiscovered_muas
#clozetteid
#makeupcreators
#slave2beauty
#coolmakeup
#make.up.vines
#indobeautysquad
#indobeautygram
#fdbeauty
#tampilcantik
#mua_army
#fantasymakeupworld
#100daysofmakeup
+ View more details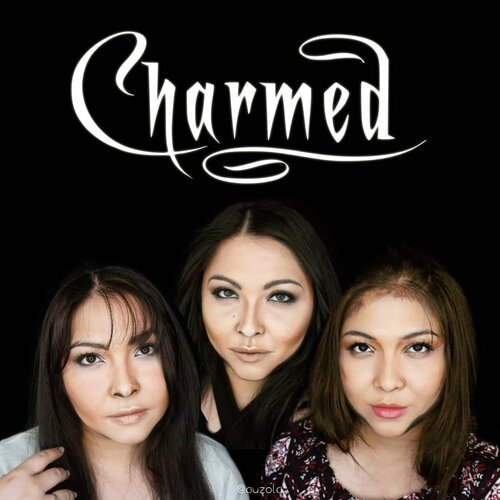 + View more details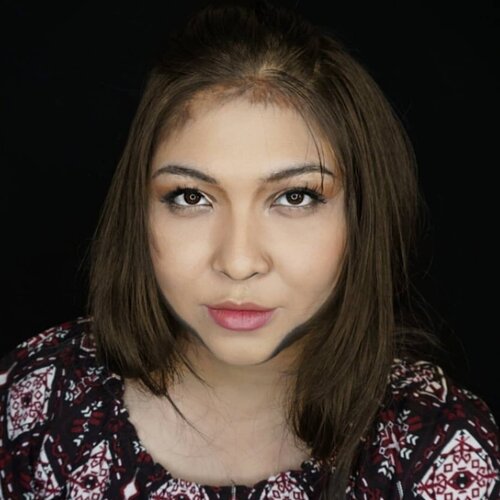 + View more details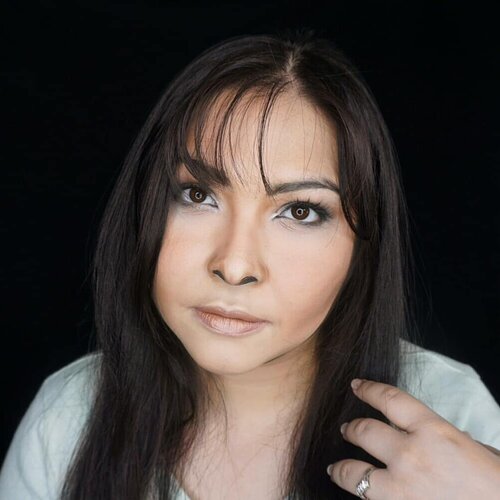 + View more details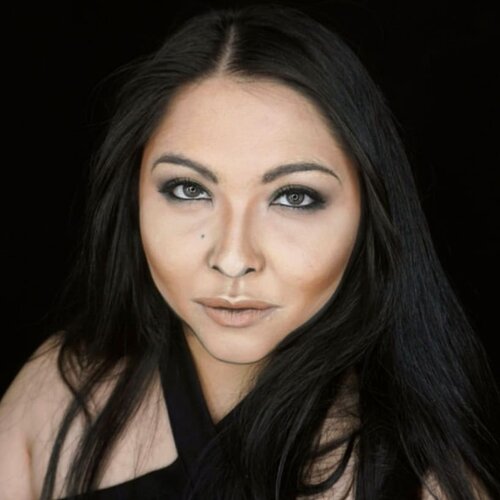 + View more details
loading ...
Back To Top