loading...
Search
2,615 RESULTS FOR MADE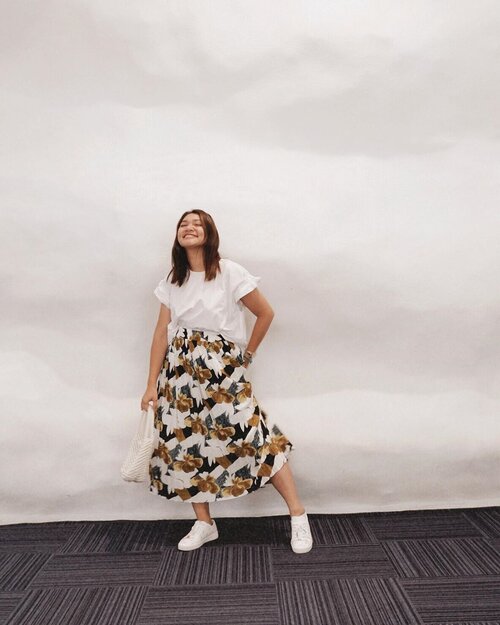 This our third week at home and it can be quite stressing and monoton.
But there is always a thing that made myself tingling with happiness just doing at home such as;
~ Using my favorite mask (skincare. not the medical one 🤣)
~ Read a good book & magazine
~ dressing up
-
What the thing that makes you happy even when you feeling down? let's share below 👇🏻so each of us can try it too :)
#dirumahaja
#stayathome
#selfquarantine
#clozetteid
#tezzaapp

+ View more details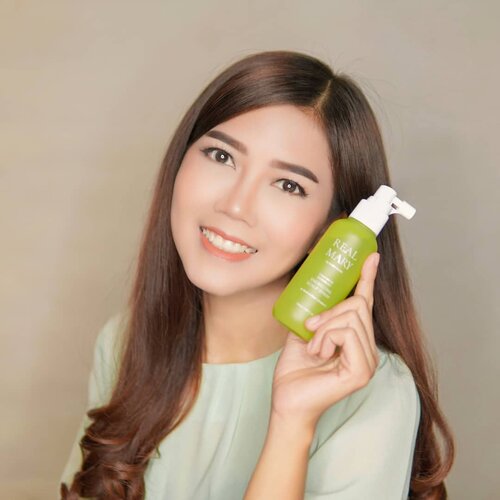 Menurut aku punya rambut bagus harus dimulai dari kulit kepala yang sehat karena rambut berawal dari akarnya. Pas banget niy aku sudah beberapa hari ini pakai produk terbaru dari @rated_green Real Mary beneran segarnya REAL!.Rated Green adalah No.1 Organic Hair Rescue 100% Made in Korea. Saat disemprotkan memberikan kesegaran instan pada kulit kepala dan rambut karena ada sensasi dingin yang menyejukkan dengan wangi yang segar. Pertama kali coba aku juga gak khawarir karena 94% bahan alami, pertama dengan teknologi cold brew rosemary, No Silikon, No Paraben, dan No iritasi!.Buktikan sendiri SEGARnya!.@sociolla @rated_green
#RatedGreen.
#clozetteid
#beauty
#haircare
#lifestyle
#hairtreatment
#rosemary

+ View more details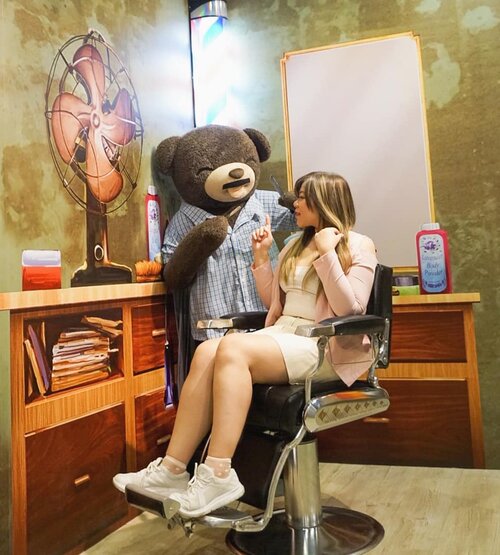 + View more details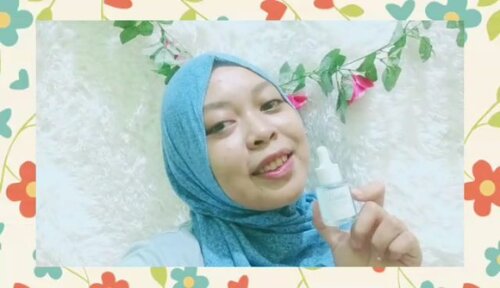 Morning love!💕I'm gonna tell you my experience of using Lovila Glow Booster Serum after a few days. But a little flash back, I'm so touched with this local brand, because I know how the founder started to build this beauty brand. So inspiring!So after a few days using @lovilabeauty my skin feels more hydrated than before which that time my skin looks dry & dull🌻Well~ I'm really enthusiast & happy knowing that Lovila has a sweet packaging with clear glass bottles contains of light blue serum with a pipette applicator that keeps the serum always sterile✨Honestly, 😍🌼 Packaging is pretty!!!🌼 Lovila is good for sensitive skin🌼 Watee based & easily absorbed 🌼 Brighten, nourish, & maintain healthy skin🌼 Calming the acne irritation & redness🌼 Hydrates & moisturizes soft skin 😔Important! Becareful when you put this product, because the packaging is made of glass bottles that are vulnerable to breaking.Ingredient: Cica, licorice, butylene glycol, glycerin, sodium hyaluronate & niacinimide. 💸 IDR 125kWish you enjoy the video, girls! 😍Btw don't forget to join my
#Giveaway
in another post of @laksmipaopao
#glowisourglow
#Love
#likee
#lovilabeauty
#like
#tiktok
#bhsxlovilabeauty
#ClozetteID
#beautyhacks
#covid_19
#dirumahaja
#lfl
#selca
#likeforlikes
#l4l
#l4likes
#skincareroutine
#stayhome
#happy
#art
#instagood
#beautiful
#photooftheday
#cute
#beautybloggers
#beautybloggersoggerindonesia

+ View more details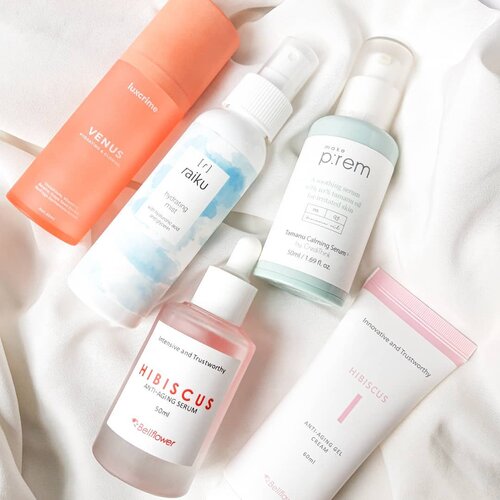 Some colorful packaging 💖Happy Sunday everyone!.Raiku hydrating face mist really moisturizes my skin. It contains glycerin, niacinamide, hyaluronic acid. Love the packaging, with soft color design. Check out their feed.Make Prem, my fav serum when my face feels irritated, like itching or redness..Bellflower hibiscus gel cream is a lightweight gel type with minimal scent, its not really occlusive but enough to moisturize my skin and fast absorb. It contains hibiscus sabdariffa flower extract 5,000 ppm, adenosine, collagen..Luxcrime venus serum still unopened, I will open it when I have finished one product. Its made without paraben, alcohol, fragrance, and SLS. I love this new packaging...What is your current serum?...
#soconetwork
#clozetteid
+ View more details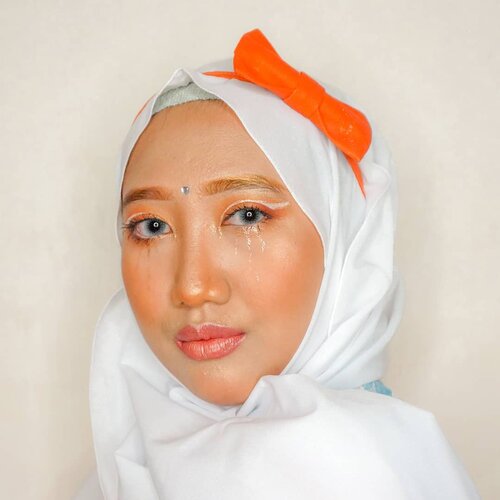 + View more details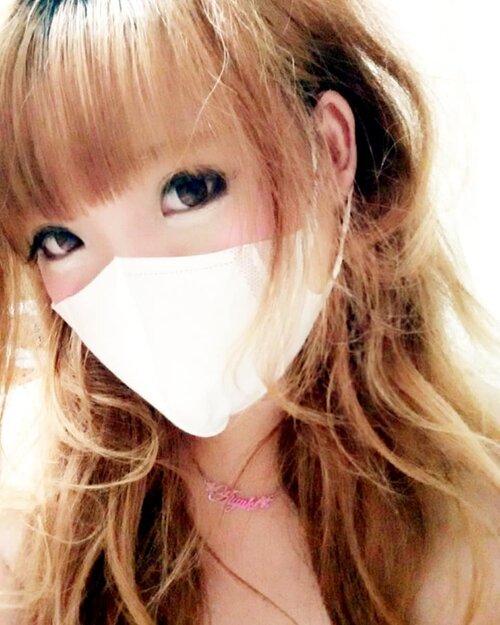 #stayathome
harus tetap produktif ya!
Akhir2 ini yang bikin mager parah bukan Corona sih, tapi PMS yang bikin mood kacau balau, jadi lebih moody parah, sensitif banget, melankolis sampe termehek-mehek, feeling depressed kaya ga ada semangat dan tenaga, and just wanna cry all day! Ngidam yg manis2 terus, cake2 gitu. Ngelawan hormon itu susah dan hampir mustahil sih, tapi hati pengen produktif terus, ga boleh jadi kaum rebahan. Yuki selalu feeling guilty kalo jadi kaum rebahan ga ngelakuin apa2/bikin karya. Semalem selesain 2 gambar semi-realis buat mood-healing. And it works! I feel much better now. Drawing, writing selalu jadi mood booster Yuki tiap kali mulai ngerasa mager/depresi.
You can check my 5mins doodle di IGS Yuki semalem, and i've got a lot of love! Thankyou so mucchhh. Jadi Yuki bikin polling gitu kan, upload ga yg versi full colornya dan i've got a bunch of answer. Love ya! Daridulu tuh pengen share karya2 gambar semi-realis Yuki. Semoga bisa rutin dan konsisten ya aplotnya.
.
Dari masa balita, kata mami Yuki udah 'nyeni'. Masuk TK,SD,SMP,SMA, mesti keluar2 kota ngewakilin sekolah buat lomba seni, khususnya gambar, puisi, nulis, tingkat kabupaten sampe nasional. Internasionalnya cuman pas kuliah doang 😅. Mostly selalu habisin waktu di sekolah, ga peduli weekend sampe tengah malem. Ngurusin karya lomba, majalah sekolah, sbg ketua jurnalis & ketua mading sekolah. Seragam sekolah juga udah ganti 11 kali pas SMA doang! Kena cat dong. 😅. Tapi jeleknya nih, dah anak kos, lupa makan saking sibuknya, kecapean ga berasa. Pas kuliah geblak kena liver yg SGOT-SGPT nya tingginya 4x lipat dari liver normal. Yaudah, dokter pesen, jangan kecapean lagi krn bs kumat. Tapi gimana ya, secara Yuki paling ga bisa diem dan ga menghasilkan apa2, berasa mati gitu jiwanya. Dari kecil aktif produktif mulu. Makanya pas musim corona ini mayan setres karena planning pada kacau semua dan ga bisa se hectic biasany
.
.
.
.
#JapaneseBeauty
#makeup
#kawaii
#beauty
#makeup
#IndonesianBlogger
#clozetteid
#モデル  #メイク  #ヘアアレンジ  #オシャレ  #メイク
#JapaneseMakeup
#yukata
#beauty
#ファッション   #ガール #かわいい
#skincare
#beautiful
#BeautyInfluencer
#BeautyBloggerIndonesia
#BeautyVlogger
#BeautyBloggerap
+ View more details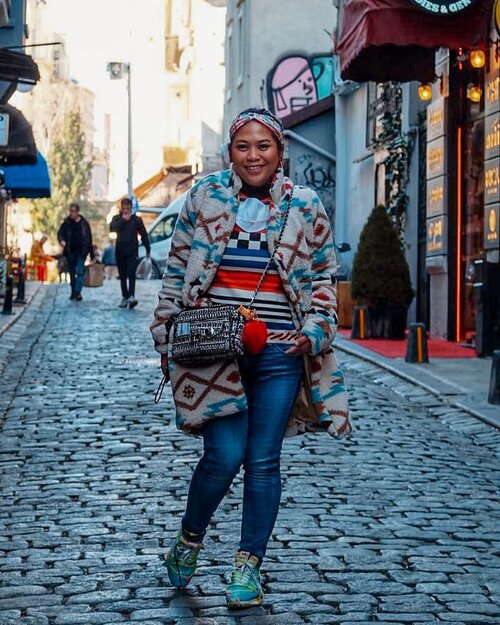 + View more details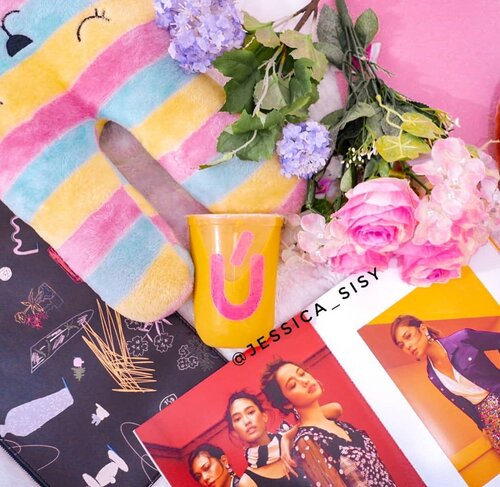 + View more details
loading ...
Back To Top