loading...
Search
3,859 RESULTS FOR MASK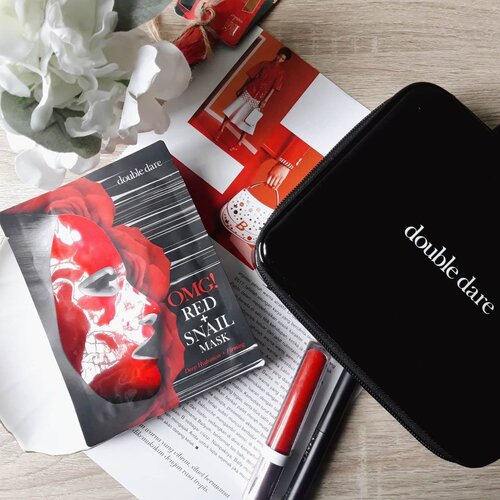 OMG! Red + Snail Mask is a new type of mask made with a combination of Super 8 Red ingredients and Snail Secretion Filtrate.
It claimed to improve appearance with the extract ingredients. The Snail contains antioxidant, and stimulates collagen production and enhance skin healing. Its rich in hyaluronic acid for the skin.
•••
The material of this mask seems to be a thicker bio-cellulose mask (?) in red. The essence of the mask is also rather slippery and sticky because of its snail filtrate composition I think. The scent just like flowers, obviously because rose flower extract is at the top of the ingredient. The application of the mask is also very easy because there is a plastic divider mask.
•••
After I let the mask on my face, it was still normal, but after about 2-3 minutes I began to feel sore in the nose and under the cheeks so I immediately removed this mask. Sadly, this mask doesn't suit me because it causes irritation.
*YMMV
•••
Thank you @doubledare_asia x @stylekorean_global 🖤
If you like to purchase this mask or double dare products you can order on
https://www.stylekorean.com/brands/270/double-dare
#TryMeReviewMe
#clozetteid
#soconetwork
+ View more details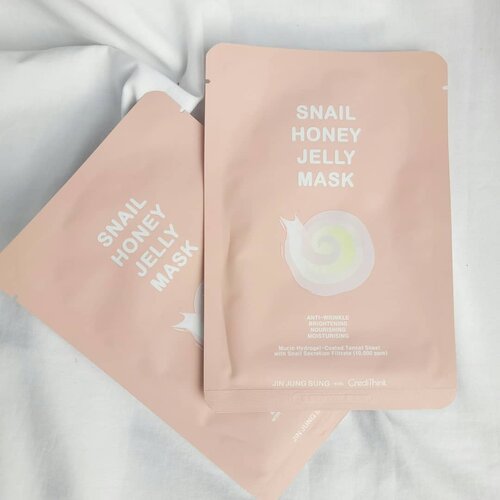 🐌 @ens_jinjungsung x @credithink Snail Honey Jelly Mask
Produk ini memiliki formulasi khusus yang mengandung Snail Secretion Filtrate (10.000ppm), 7 jenis Hyaluronic Acid, dan Glycoproteins yang membantu mengurangi garis-garis halus dan meningkatkan elastisitas kulit. Mengandung Ekstrak Madu sebagai antioksidan alami yang dapat meningkatkan kelembaban dan mencerahkan kulit. Ekstrak Royal Jelly mengandung berbagai macam asam amino dan mineral dengan kadar vitamin B yang berlimpah untuk membantu memperbaiki dan melindungi kulit. Dan juga ekstrak Propolis dikenal memiliki anti-inflamasi, anti-virus, dan sifat anti-bakteri yang membantu menenangkan, menyembuhkan, dan melindungi.
Mucin Hydrogel-Coated Tencel Sheet, sheetmask ramah lingkungan yang dibuat dari pohon Eucalyptus diresapi dengan serum unik kami yang dirancang untuk secara efektif agar mudah diserap oleh kulit.
Aku sudah memakai masker ini 4 kali. Love-Hate dengan masker ini. Aku suka dengan efek pada kulit wajahku yang diberikan setelah memakai masker ini, karena bikin wajah aku terasa kenyal, lembab dan kencang. Aku juga suka sama wangi dari sheetmasknya.
Tapi aku juga benci sama masker ini terutama ukurannya, menurutku ini terlalu lebar dan bagian hidungnya panjang banget atau hidung aku aja yg pesek? hahaha. Aku juga kurang suka efek lengketnya. Saat-saat essencenya akan meresap ke kulit, rasanya agak lengket kalo di tepuk-tepuk terus (seperti di video) jadi lebih baik di diamkan tapi lumayan lama meresapnya.
Kalo kalian yang udah coba gimana?
#snailmask
#wrinklesfree
#microbubblemask
#cleanbeauty
#credithinkmask
#beautiesquad
#lianaekacom
#idskincarecommunity
#skincarecommunity
#skincare
#skincarelover
#skincarejunkie
#lokalskincare
#skincarelokal
#indonesiabeautyblogger
#beautybloggerindo
#clozetteid
+ View more details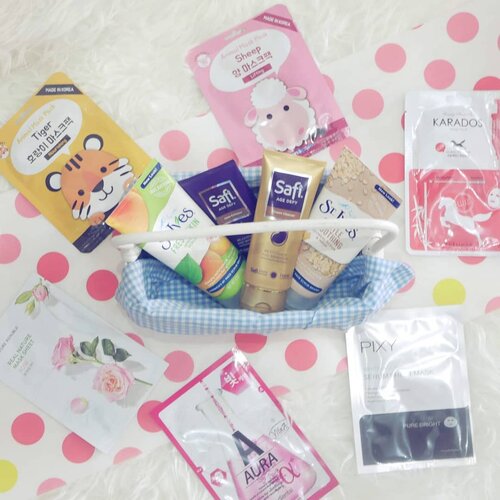 DAILY AND WEEKLY ROUTINE SKINCARE
Sebelum bungkusnya dibuang, bolehlah aku abadikan dulu, daripada lupa. Aku update disini aja deh, gak di blog 😁
Mau foto flatlay yang cakep kok anak bayik udah nangis duluan 😕 Yaudah deh apa adanya aja fotonya
Karena aku tipe yang hampir gak ada waktu ke klinik atau salon buat face treatment, solusinya adalah aku melakukan daily home treatment.
Ini adalah daily and weekly face routine aku. Detailsnya :
Daily :
Aku rutin membersihkan wajah minimal 2x sehari. Bulan lalu aku pakai sabun wajah safi cream cleanser & safi face scrub.
Jadi aku pakai face scrub per 3 hari sekali. Jadi saat pakai face scrub aku campur dengan dengan cream cleanser sedikit, karena kalau face scrubnya aja dipakai gak bersih, cuma ngilangin kulit matinya aja, kotorannya gak keangkat.
Tapi sekarang @safiindonesia cleansernya udah habis, udah dibuang bungkusnya, aku sukaaaa banget sama cleansernya Safi. Ini beda banget sama sabun wajah lainnya. Lembut banget di kulit aku.
Weekly :
1. Setiap 2-3 hari sekali aku selalu lakukan exofliate (physical and chemical exfoliating)
Chemical : Aku pakai acid toner. Nanti kapan2 aku update chemical toner aku ya.
Physical Exfoliating : Nah ini aku pakai per 3 hari sekali. Selang seling sama face scrub.
Saat ini aku pakai @stivesskin dengan 2 jenis berbeda, yaitu Gentle Smoothing (coklat) and Fresh Skin (hijau)
Beda keduanya adalah kalau yang gentle butiran scrubnya haluuus banget. Kalau yang fresh skin itu kasar.
Aku pakai keduanya bergantian. Jadi kalau sekiranya kulit wajahku kasar, aku pakai yanh fresh skin. Kalau sedang kering and gak ada masalah, aku pakai fresh skin.
2. Setiap minggu gak lupa aku pakai sleeping mask. Variannya bisa apa aja, tergantung stock yang ada aja.
Nanti kalau ada waktu luang, baru aku ke klinik kecantikan sebulan sekali 🙂
#ClozetteID
#sheetmask
#facescrub
#makeuplook
#beauty
#skincare
#skincarebasics
#skincareroutine
#skincareaddict
#bodycare
#photooftheday
#iloveskincare
#selfcare
#skincareobsessed
#hijabstyle
#beautyproducts
#dewyskin
#makeupjunkie
#instabeauty
#healthyskin
#wakeupandmakeup
#beautystuff
#glow
#beautytips
#beauty
+ View more details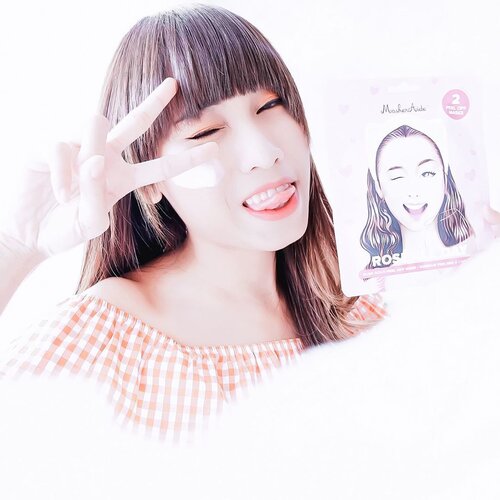 Rose Gold Peel Off Mask 😍-I love the peel mask, because it'll lift up any blackhead, dead skin, and dirt all over my face in a second. This time, I have a chance to try @roseallday.co masker aide.-What's good?Easy to apply and flattenEasy to peel offNot too stickyCan lift up any blackhead, soft hair, dirt, dead skin and many moreSensitive skin approvedThe rose gold color is real1pcs for 2x usesDown side?Please make sure this mask isn't stick around your hair. It's really hurt when you peel the mask off.-What's the benefit?Luminizes complexion and boosts skin's radianceRefine and smoothen the skin textureVisibly minimizes and shrinks poresStrip away impurities and gently up roots fine facial hairsInstantly lifts and firms skinComplete with royal jelly extract, 24k gold flakes, honey extract-Where's to buy?On my @charis_celeb ofc
http://hicharis.net/tephieteph/JrvGet
the @roseallday.co peel off mask with special price ☘️...
#clozetteid
#charisceleb
#charis
#hicharis
#hicharis_official
#roseallday
#rosealldaymask
#peelofffacemask
#peeloffmask
#rosegoldmask
#bloggersurabaya
#bloggerjakarta
#tephcollaboration

+ View more details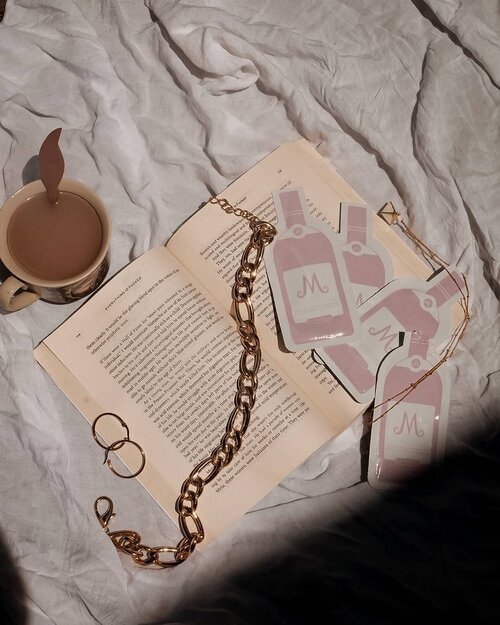 This rose gold mask is beyond incredible. When you apply it on your face it has a nice cooling sensation... When you peel it off it takes all the dead stuff hiding in your skin and you can see through the light from the peel. I have tried every face peel and nothing is stronger then this peel. Get yours now at
hicharis.net/Itachenn/IvB
(tap direct link in my bio) for special price 🌹✨ @charis_celeb @hicharis_official
#hicharis
#charisceleb
#rosegold
#peeloffmask
#clozetteid
+ View more details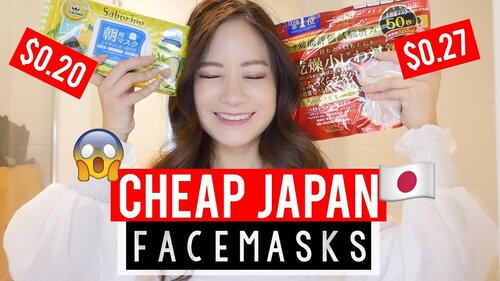 CHEAP JAPANESE Face Masks that WORK!! - YouTube
+ View more details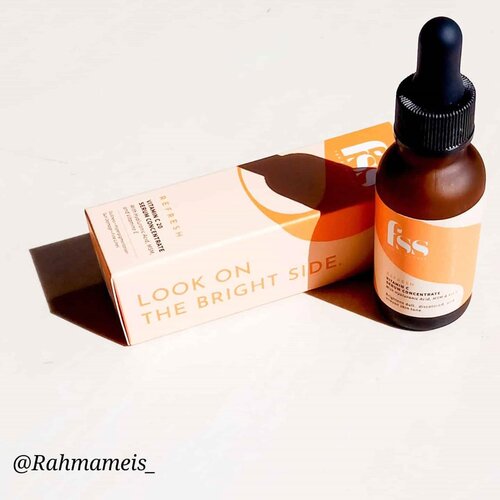 #reviews
FOR SKIN'S SAKE " Vitamin C 20 Serum Concentrate"..For Skin's Sake Vitamin C Serum is a serum that has the main function to brighten skin color thoroughly. Makes the skin supple, smooth and soft. Enriched with Hyaluronic Acid, MSM, and also Vitamin E. Has a formula that is lightweight and easy to absorb, and does not leave a greasy taste...🌻TEXTURE AND SCENT: In terms of texture, this serum is thick in texture and has a turbid white color. easily absorbed. I thought initially it would be very heavy in advance, but apparently not. It smells like medicine. But not too sharp...📦PACKAGING: In terms of packing this mask is stored in a small red bottle, not translucent like most serum containers, this makes the contents inside stay awake from direct sunlight. And if you want it can be better stored in the refrigerator...🌻HOW TO USE: I wear this in the morning after toner and essence, I use one drop for the morning before the activity. And don't forget to wear a sunscreen if you don't want to irritate your face. I don't wear this at night because I use retinol. It is not recommended to use it together with retinol. Because it will feel heavy on the face....🍁Review: After observing with 2 weeks of use, I get significant changes, even skin tone and blemishes stain slowly fade. There is no kind of reaction on my skin, because this serum does not contain alcohol and perfume at all so it is safe for all skin types, even sensitive skin can use it. Although in terms of texture this serum looks cloudy white but not at all heavy on the face. Very light if it must be overwritten with a moisturizer and sunscreen. Look at the ingredients they add vitamin E which is very good for adding skin moisture. I really like this serum vitamin C. Not heavy on the face and does not make the face become an oil refinery kill 😂😂...Non-greasyNo Animal TestingNo ParabenThere is no coloringNo Fragrance...🙌🏻Attention: The above review is based on my experience, and the results depend on each of your skin..How about you? Attracted to try it ???. .🌟 Rate: 5/5 🔖Buy at @sociolla
+ View more details
loading ...
Back To Top