loading...
Search
193 RESULTS FOR MOISTURISING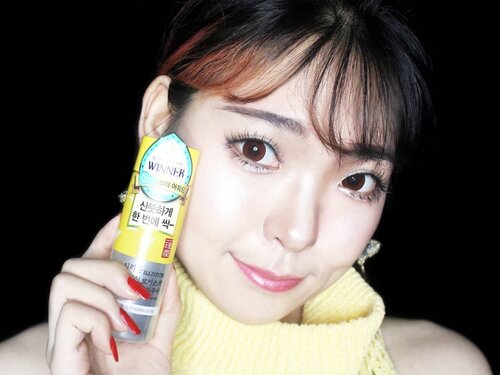 As an entertainer and work in beauty industry - i have to look perfect from top to toe, from Makeup, Hairstyle, Fashion, etc..I often wear a waterproof makeup to keep my makeup on its place without retouch many times. Especially when i have a crazy-busy schedule, attend an event, photosession, or another schedule..But when i wear a waterproof makeup, i have to remove it very clean, or it will leave acne, or other skin problem..I've tried Illiyoon Fresh Moisture Lip & Eye Remover that clearly remove waterproof and longwear makeup. Eventhough it has strong cleansing power, but containts very mild ingredients, and leaves skin around my eyes and lips feel very smooth and moisturized..Illiyoon Fresh Moisture Lip & Eye Remover formulated with coconut oil that can melt away makeup. Also Yuja, a Korean Citron that can revitalized tired skin around eyes and lips, just leaves skin feel moisturized..This is what i need, deep cleanse and easily remove waterproof makeup without rubbing many times. Because lips and eyes are sensitive enough, when you rubbing you eyes and lips area so many times, your eyes and lips area will getting irritated. But this cleanser perfectly remove waterproof makeup and leave the skin around the eyes and lips soft and moisturised. Just leave my skin fresh and clean. It doesn't leave any oily feeling..If you want to buy this product, you can save USD -1.35 (USD 10.35👉9.00) using AIYUKI8's Exclusive Offers through :
https://hicharis.net/AIYUKI/JT8...@hicharis_official
@charis_celeb
#illiyoon
#freshmoisturelipandeyeremover
#remover
#lipremover
#eyeremover
#CHARIS
#hicharis
#Charis
#CharisCeleb
#illiyoon
#illiyoonFreshMoisture
#KoreanBeauty
#KBeauty
#Korean
#KoreanMakeup
#BeautyBlogger
#BeautyVlogger
#illiyoonLipAndEyeRemover
#clozetteid
#Makeup
#Cosmetics
#style
#Blogger
#Blog
#Beauty
#girls
#メイク
#makeup
#style
#girl
#beauty
#kawaii
+ View more details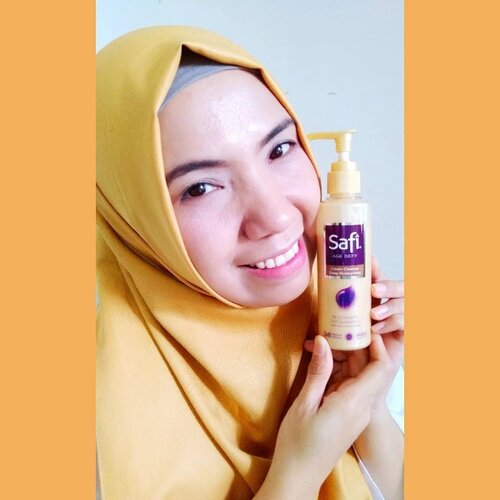 + View more details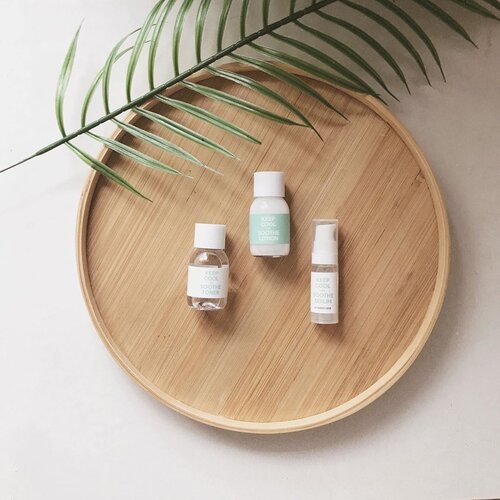 Baru aja belakangan ini cobain si Soothe Bamboo Mini Kit. Rasanya? Seger banget. Fresh gitu. Dari ketiga rangkaian skincare Korea ini favorit gue adalah si toner dengan low ph yang rasanya tuh moisturise kulit banget dan fresh. Serum sama Lotionnya juga cukup cocok di kulit gue yang oily. Gak bikin tambah berminya selama pemakaian, dan lotionnya cukup cepat menyerap. Udah ada yg pernah cobain belum?-@charis_celeb
#skincarejunkie
#beautybloggerindonesia
#clozetteid

+ View more details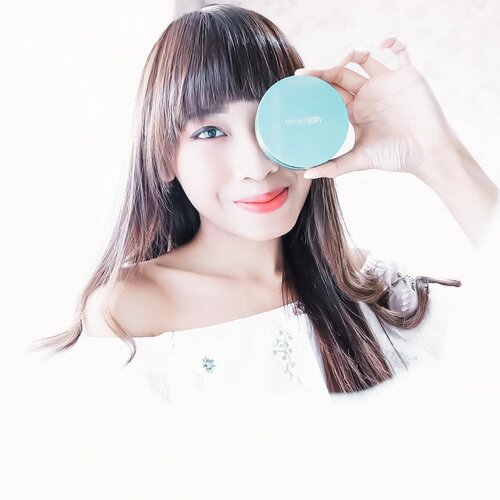 Still looking for a cushion with good quality and high coverage? I suggest you to try this one !
-
Wardah Exclusive Flawless Cushion ini adalah cushion dengan medium to high coverage dan moisturiser yang cukup baik. Cocok banget buat kalian yang punya jenis kulit oily dan belum menemukan cushion yang cocok.
-
Wardah Exclusive Flawless cushion, gak cuma bakal kasih kalian natural glowing finish tapi juga bisa menghambat produksi sebum sampai dengan 10 jam ! It's the one of best local product cushion of the year.
#FellThePerfection
#WardahExclusiveSeries
.
.
.
#clozetteid
#cushion
#bestcushion
#localbrand
#beauty
#beautyhacks
#bloggersurabaya
#bloggerjakarta

+ View more details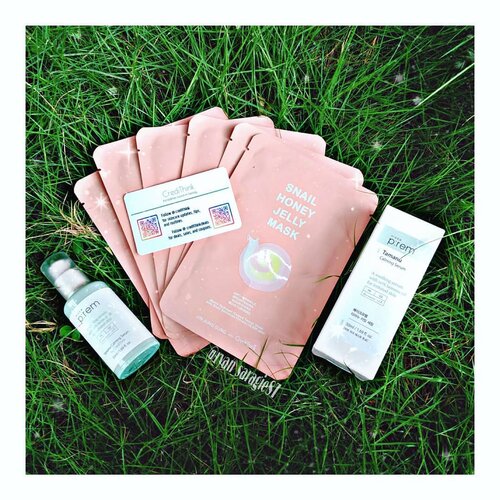 ❄ GRATITUDE POST ❄..Si budey makan sambel cocol,Happy Monday all 😀.Seperti yg pernah aku share di Unboxing IG Story ku sebelumnya, kalo aku dikirimin paket oleh pihak @credithink walopun paket ini sempat mampir & menginap kurang lebih 2 minggu dikantor Bea Cukai Pekanbaru 😭😭.Sedikit info aja kalo @credithink merupakan salah satu webstore yang menyediakan berbagai jenis produk skincare dr beberapa brand skincare Indie asal Korea yang mungkin jarang kita temui atau kita dengar namanya sebut saja Make P:rem, Jin Jung Sung, Thank You Farmer, Urang, Iunik, Keep Cool, Isn Tree & lainnya. Tapi...kalo kelen ngaku Korean skincare junkie pasti kenal lah sama brand yang aku sebutkan diatas 😊 . Dan biarpun brand mereka kurang familiar tapi untuk kualitas produk tetap okey kok guys, makanya sebagai tehnik marketing mereka sering ngadain event try & review gitu untuk menyasar para skincare junkie yang siap sharing review produk tsb baik di Instagram, Youtube ataupun Blog..Adapun produk yg diberikan untuk ku sbb : 🌸 Jin Jung Sung Snal Honey Jelly Mask 🌸 Mask sheet ini punya klaim berguna sebagai Anti Aging, Brightening, Nourishing & Moisturising. 🌸 Make P:rem Tamanu Calming Serum 🌸 Serum yang punya kandungan minyak extrak dari biji cemara ini dipercaya dapat menenangkan kulit sensitiv dengan cepat, menghydrasi serta membuat kulit lebih sehat. ..Okey thank u so much for @credithink @ens_jinjunsung @makeprem . Dan untuk reviewnya Insya Allah ku usahakan share dibulan ini tapi jika memungkinkan soalnya kondisi kesehatanku agak drop belakangan ini..
#credithink
#jinjungsung
#makeprem
#kbeauty
#kcosmetics
#kskincare
#skincare
#serum
#tamanuoil
#sheetmask
#maskpack
#skincarecommunity
#abcommunity
#bloggercommunity
#pmroutine
#bblogger
#clozetteid
#메이크프렘 #진정성화장품

+ View more details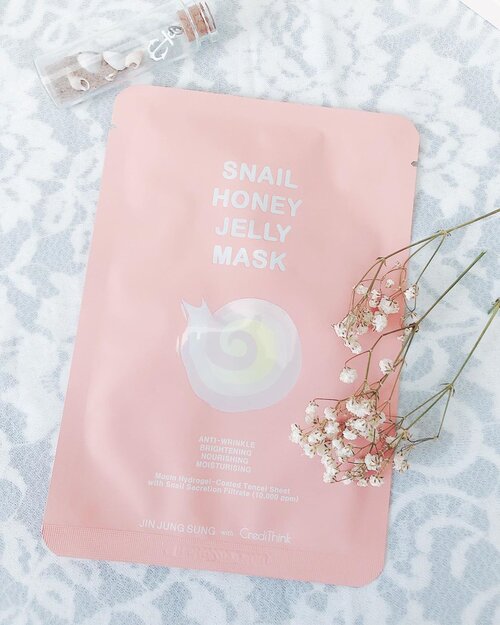 Snail Honey Jelly Mask 🐌 @ens_jinjungsung x @credithink •
Is a perfect sheetmask for me, as you know I recently really liked snail ingredients because it had a real effect on my skin. Having skin with uneven texture is frustrating 😭 and my age now has to use anti-aging products. A good investment is to include anti-aging products in your routine skincare if you are 25 years or older.
•
Amazing sheetmask has 4 benefits in 1. Anti wrinkle, Brightening, Moisturising, Nourishing and this sheermask material is really comfort in my skin, feel lo light and giving me a lot of essence. •
Mucin Hydrogel-Coated Tencel Sheet which can absorb a lot of essence and is very effective for absorption of essence in the skin. Made from Eucalyptus tree which is environmentally friendly
•
Mucin Microbubbles special formula containing snail filtrate 10.000 ppm, 7 types of Hyaluronic Acid and Glycoprotein help reduce finelines & improve elasticity
•
Jujur, aku suka banget material sheetmask yang modelnya tipis gini karena dia super efektif memberikan banyak essence ke kulit dengan baik dan aku gatau apa ini perasaanku saja, sheetmask material ini ga lengket setelah pemakaian. Karena jujur sheetmask yang memiliki material lebih tebal daripada ini, setelah di pakai agak lengket dan aku perlu bilas pakai air supaya tidak legket. So I really love tencel eucalyptus material ❤️
•
I prefer using sheetmask on night skincare routine, how about you? •
Is BLACK FRIDAY !!! Visit @credithink website and get the special price 😍❤️
•
#microbubblemask
#snailmask
#wringklesfree
#cleanbeauty
#credithinkmask
#credithink
#ensjinjungsung
#ensjinjungsungmask
#kbeauty
#sheetmask
#snailfiltrate
#beauty
#makeup
#skincare
#selfie
#clozette
#clozetteid
+ View more details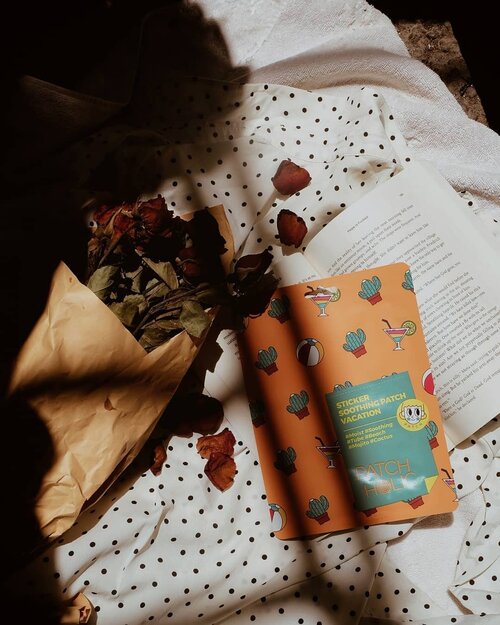 I used these patches the first day I got them!🍒 Packagingnya superrrr gemes, jd gatahan buat langsung cobain. Selain bentuknya lucu2, wanginya juga enak banget. Sticker patch ini memberikan efek cooling dan moisturising, jd cocok untuk pemilik kulit sensitif, sunburned atau tired skin. 30 menit setelah diaplikasikan, kulit beneran terasa jauh lebih lembut dan halus. I'll be buying again when I run out! Don't think twice and grab yours now! Click direct link on my bio and enjoy your special discount🍒🍉🍋✨ @charis_celeb @hicharis_official
hicharis.net/Itachenn/Gwg
#patchholic
#stickerpatch
#charis
#charisceleb
#hicharis
#clozetteid
+ View more details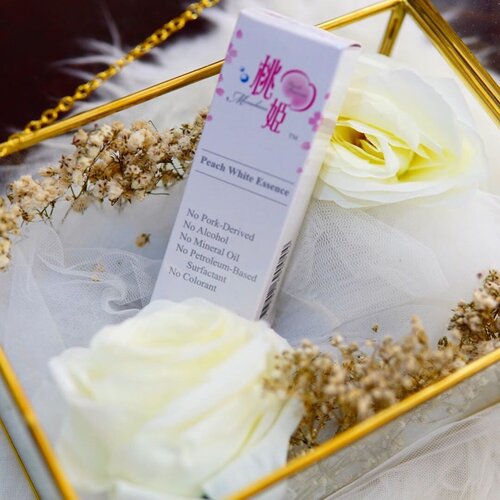 Japanese Brand with Japan Islamic Trust @momohime_indonesia_official . I've been using this Peach White Essence for a week. My first impression is I love how light the textures and it absorb easily💛. Well this Peach white essence have a result to brighten up and keep our skin moisturised. It has Vitamin C, Arbutin and Mandarin Oranges Extract, which is well known as Skin Brightening Ingredients. ..Sooo more about my My First Impression it's Up on my Youtube Channel. Enjoy watching babes💛..Have a Nice Day😘..
#clozetteid
#clozetteidreview
#momohime
#halalskincare
#japanskincare
#momohimexclozetteidreview

+ View more details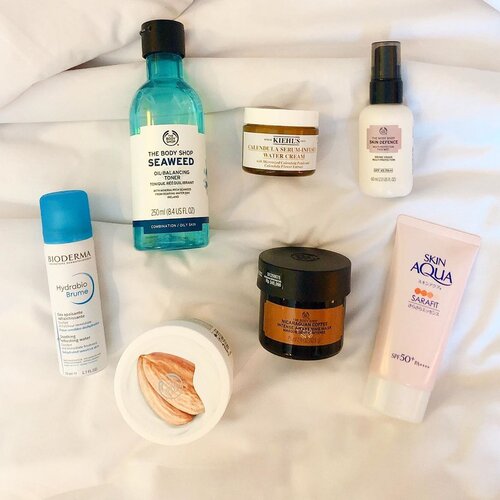 Travel Essentials💛What to pack during this weekend Getaway?..💛Sunscreeen?Its A MUST lupa sunscreen itu HARAM🤣.Aku bawa dua sunscreen Skin aqua sarafit dan Skin Defence Multi protection Mist @thebodyshopindo .Skin Aqua Sarafit untuk sebelum makeup dan Skin Defence Multi Protection Mist untuk touch Up di perjalanan.💛Face SprayHydrabio Brume spray @bioderma_indonesia . Buat kalian yang wajahnya suka merah" setelah kepanasan ini wajib bawa ya untuk soothing skin.💛 Seaweed Toner @thebodyshopindo Buat kulit aku yang kombinasi to oily ngga mungkin untuk skip toner ini. Agar skin condition aku balance ngga over oily dan juga ngga ada dryness (biasanya di area U-Zone suka dryness saat ngga seimbang skin conditionnya).💛 MoisturiserYeaay ini favorite new holygrail
#ichamaucerita
Calendula serum infused water cream @kiehlsid .Kalau males bawa serum pakai Calendula water cream ini udah cukup kok babes secara udah ada serum calendula juga di dalam moisturiser ini😘. 💛 Body Yoghurt @thebodyshopindo Jangan lupa kulit tubuh juga butuh perawatan. Favoritku adalah si Almond. Body yoghurt ini meresapnya cepat dan juga ngga lengket. 💛 Face MaskBiar kulit tetep seger ngga keliatan lelah Nicaraguan Coffee @thebodyshopindo . Nicaraguan Coffee ini ada efek exfoliating jadi kulit mati bisa terangkat. ..Have a great weekend everyone💋..
#travelessentials
#whattopack
#clozetteid
#kiehls
#ichamaucerita
#besutyessentials

+ View more details
loading ...
Back To Top