loading...
Search
1,869 RESULTS FOR TEA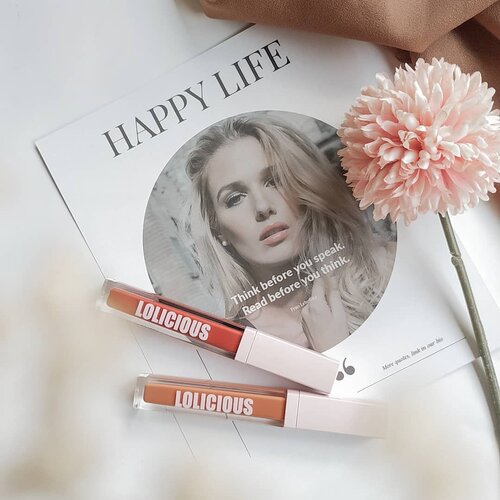 🚨 Local Brand Alerts 🚨
.
Hello everyone...how's life? Produk makeup apa yang menurut kalian nggak cukup kalau cuma punya 1??? Me, of course lipstick 💄💋.
.
Kali ini aku mau mereview lip product dari @lolicious_beauty Buat kalian yang mungkin belum tau, lolicious ini lokal brand yang formulanya terinspirasi oleh salah satu Korean Brand lip products yaitu 3CE. Selain itu Lolicious ini diproduksi oleh PT. Cosmax, jadi 1 manufacturer sama loreal, dll.
.
Lolicious Matte Lip Cream memiliki 5 pilihan warna yang menurutku semuanya cantik-cantik dan bikin bingung kalau cuma harus pilih salah 1 😂. Aku berkesempatan untuk mencoba warna Peach Pit & Brick Tea. Kalau di lihat dari instagram mereka kedua warna ini masih ada kesan nude & kecokelatan, tapi ternyata....ahh bahas warnanya nanti dulu aja hehe.
.
Sekarang kita bicara soal packaging, kalo dilihat di ig mereka kok ada 2 macam packaging? Yang satunya motif bunga berbentuk bulat dan satunya lagi yang ini polos berbentuk kotak. Jadi, mereka memang punya 2 macam kemasan guys, tergantung selera kalian suka yang gimana? Kalau aku lebih suka yang simple gini untuk sebuah kemasan lipstick, perpaduan warna baby pink dan transparan super cute, kalau yang motif bunga agak too much menurutku, tapi tetep tergantung selera sih.
.
Aplikatornya berbentuk runcing seperti kebanyakan lip cream, berfungsi cukup baik untuk mengaplikasikan dan meratakan produk dibibir.
.
Bagaimana tekstur produk ini? Baunya gimana? Tahan lama nggak? Swatches warnanya mana woyyy? Sabarrr...tunggu next post besok siang 😂😂😂
.
.
.
Produk lolicious ini tersedia di berbagai marketplace seperti Shopee, Tokopedia & Lazada, search aja namanya Lolicious Beauty atau klik link di bio mereka.
.
.
.
#lolicious
#loliciousbeauty
#loliciouslipstick
#peachpit
#bricktea
#lipstick
#makeup
#mattelipstick
#lipcream
#redlipstick
#nudelipstick
#koreanlipstick
#localbrand
#beauty
#beautycommunity
#clozetteID
#makeuplover
#beautyblogger
#lipsticklover
#lipstickoftheday
#motd

+ View more details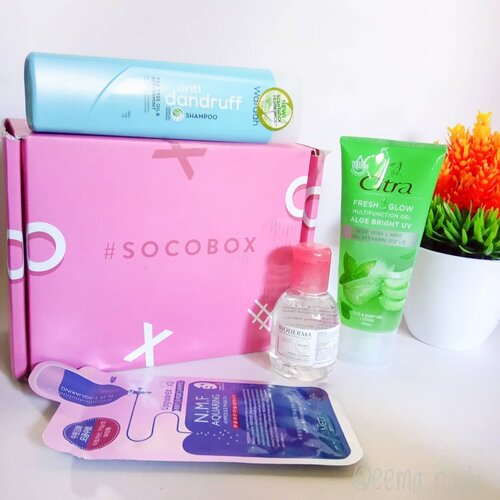 My SOCIOLLA'S BEST OF 2019 has arrived safely 😘.
Kali ini aku dapet :
💙 Mediheal - N.M.F Aquaring Ampoule Mask
💙 Bioderma - Sensibio H2O
💙 Citra - Fresh Glow Multifunction Gel Aloe Bright UV
💙 Wardah - Anti Dandruff Shampoo Tea Tree Oil & Papermint
Jangan lupa yang ingin belanja di @Sociolla bisa dapet potongan 50k dengan pakai voucher: SBN9NW 😉
#SOCOID
#SOCOBOX
#SOCOBOXBESTOF2019
#sociollabloggernetwork
#ClozetteID
#beauty
+ View more details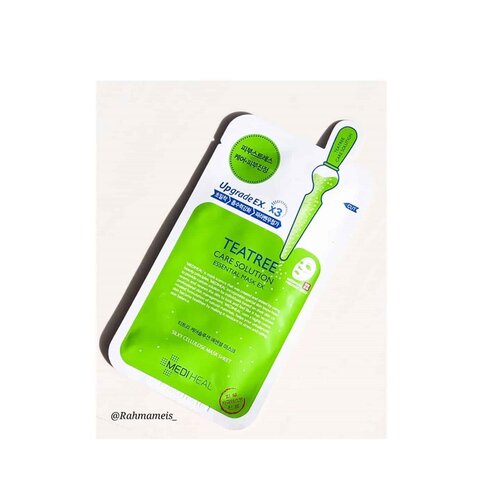 #reviews
MEDIHEAL "Care Solution Essential Mask EX"...Teatree Mask is a mask that can irritate and refresh the skin without feeling sticky after you use it... 💦TEXTURE AND SCENT: In terms of texture, this mask is white like a wet tissue and has a clear, rather thick essence... 📦PACKAGING: In terms of packaging the mask is wrapped in green and white plastic, according to the color of the tea. Good size and practical. 🍃 HOW TO USE: Rub the toner on the face that has been cleaned. Remove and remove the mask from the package, and put the sheet on the face. Rest comfortably for 10 - 20 minutes then take off the mask...🍁Review: Masks are very useful masks to overcome skin problems such as acne and oily skin. I wear this when the skin is problematic, the effect of moisturizing and calming the skin is very felt. The essence that I use a lot after wearing these masks, is applied over the surface of the mask for maximum results. I recommend using this mask for oily skin with extra tea tree which is known to be able to control excess oil... 🌿INGREDIENTS: Water, tea tree leaf oil, tea tree extract, willow bark extract, centella asiatica extract, hottuynia cordata extract, soybean seed extract, pea extract, sage extract, lavender extract, matricaria extract, rosemary extract, cymbopogon schoenanthus extract, Boswellia serrata resin extract , glycerin, propanediol, 1,2 hexanediol, xanthan gum, butylene glycol, panthenol, trehalose, betaine, carbomer, allantoin, polysorbate 80, arginine, disodium EDTA, dipotassium glycyrrhizate, tocopheryl acetate...🙌🏻 Attention: The above review is based on my experience, and the results depend on each of your skin...🙏 How about you? Attracted to try it ???... 🌟 Rate: 5/5..🔖 Buy at @altheakorea
+ View more details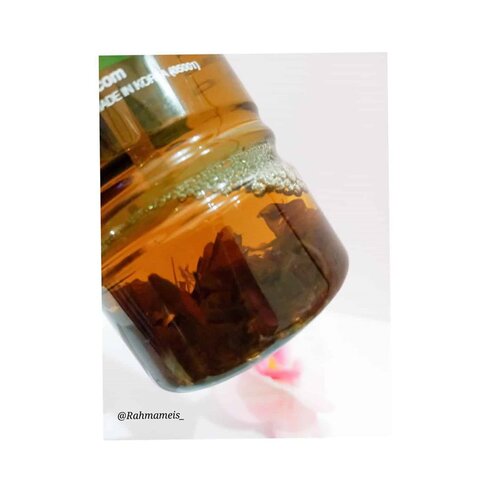 + View more details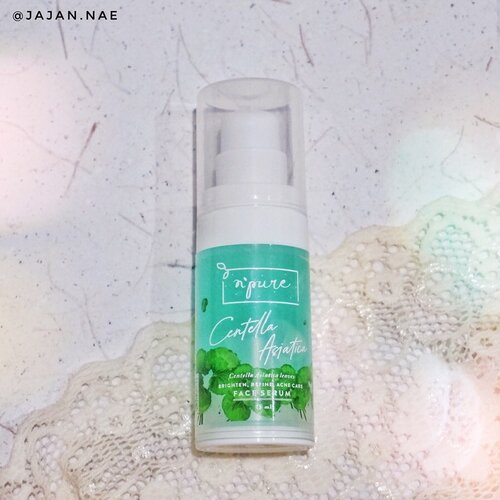 + View more details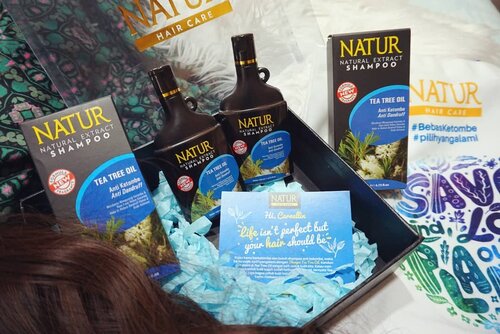 + View more details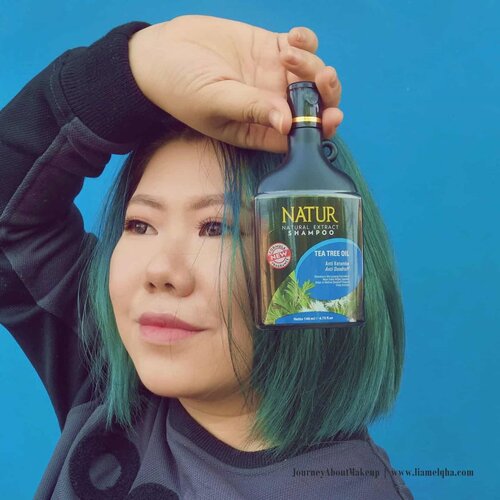 Shampoo Natur Tea Tree Oil Sebagai pecinta rambut warna-warni yang sering keringatan dan menggunakan dry shampoo, kadang aku kesulitan mencari shampoo anti ketombe di pasaran. Karena rambut yang diwarnai itu rewel sama shampoo anti ketombe. Kenapa? Aku uddah ceritain di blog. Cus monggo klik link di Bio, udah tayang di blog
#liamelqhadotcom
#JourneyAboutMakeup.
Akhirnya aku nyobain shampoo anti ketombe dari Natur yang mengandung Tea Tree Oil ini dan shampoo ini nggak bikin rambut ijo biru (bilang ajah emerald green yak, biar aku happy. hahaha) ini jadi kering setelah aku biarkan kering karena angin. Shampoo anti ketombe dari Natur ini juga, nggak menguras banyak warna rambutku. Rambut dengan warna begini pasti luntur tiap kali keramas, tapi jika shampoo mu tepat, warnanya nggak akan luntur banyak. Nggak takut rambutku cepat pudar lagi nih. Thank you Natur!
#BebasKetombe
#RambutKetombe
#NaturTeaTreeOil
#PilihYangAlami
#AlamiLebihBaik
#JakartaBeautyBlogger
#JakartaBeautyBloggerFeatBackToNatur
@BackToNatur@JakartaBeautyBlogger
+ View more details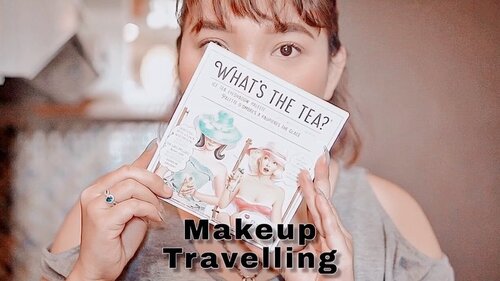 + View more details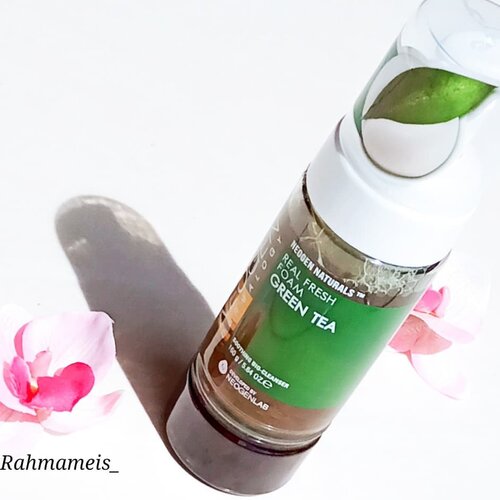 #reviews
🌱NEOGEN "Green Tea Real Fresh Foam Cleanser"🌱...This unique foam cleanser should be tried for oily, combination or acne-prone skin. The starting ingredient in this cleanser is fermented green tea extract, which brightens, soothes and moisturizes the skin. This gentle foam effectively removes impurities such as sweat and dirt from the skin without removing your skin's natural oils. Light and moisturizing, this is a water-based cleanser that is perfect for use in your double cleaning routine. The pH of this product is 8.... 🌱TEXTURE AND SCENT: In terms of texture I was surprised when I first started using it, because from the outside the bottle appeared to be liquid and there were extra greentea leaves under the bottle. Really interesting. And when pumped to freeze its contents comes out a very soft white foam. 😂😂 Waow Daro in terms of fragrance such as the fragrance of tea leaves that have spent the night, fresh. I like 😍...🌱PACKINGAN: In terms of packing this mask is stored in a 160 ml plastic bottle which I think is big for a facewash. But it is not travel friendly because it requires quite a lot of space to be taken away... 🌱 HOW TO USE: I used to use fresh foam at this time washing my face, morning and night. Or as the second stage of the double cleansing routine, after the oil cleanser. I use 1 to 2 pumps per face wash...🍁Review: After I use this facial cleanser for several weeks. Neogen Real fresh foam greentea does not make the skin feel traction after wearing this because it is with soft foam. And what I like about this facial cleanser is that it doesn't contain any alcohol, so it's safe for all skin types, especially sensitive skin. Because it contains a natural mixture of cranberries, green tea, fermented rice, and blueberry extract which helps moisturize and brighten the skin. After washing my face, it's clean and soft 😍 makes my zits dry quickly. Looks like I love this foam....🖍️ Attention: The above review is based on my experience, and the results depend on each of your skin... How about you? Attracted to try it ???...🌟 Rate: 4.5 / 5...🔖🔖🔖 Buy at @altheakorea
+ View more details
loading ...
Back To Top