loading...
Search
7 RESULTS FOR FASHIONY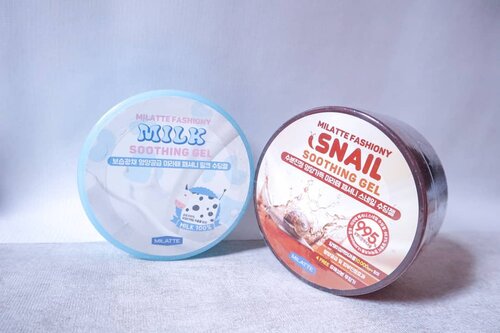 Siapa yang suka pakai soothing gel? 🙋🏻‍♀️.Kalo soothing gel yang bahan dasar aloe vera udah biasa, ya. Nah, sekarang udah ada varian susu sama lendir siput loh! Keduanya udah aku review di blog aku, tinggal klik link di bio seperti biasa 🌻 eh, soothing gel ini bisa kalian beli di charis shop aku dengan harga 100ribu aja loh. Mumpung dikirim dari Jakarta, bisa sampai ke rumah lebih cepet jadinya 🥰.Ada yang pernah nyobain soothing gel dari Milatte Fashiony ini?.
#aidacht
#beautiesquad
#clozetteid
#soothinggel
#milksoothinggel
#snailsoothinggel
#milatte
#fashiony
#CHARIS
#hicharis
@hicharis_official @charis_celeb
+ View more details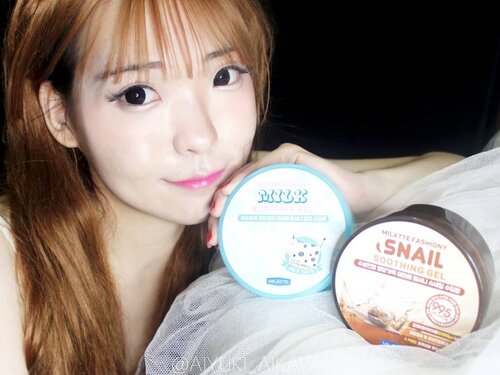 Living in tropical country means : Always keep in touch with sweltering heat. No wonder, dry skin always be the greatest problems. I need a product that can hydrate and make my skin feel fresh..Milatte Fashiony Milk & Snail Soothing Gel is a face & body moisturizing gel that will hydrate and soothe, also moisturize my skin. It can be use for face and body. Mild enough even for my sensitive skin. I have 2 variants :.🐄 MILK SOOTHING GELirresistibly soft texture and milky bright complexion, infused with 100% pure milk protein complex. Formulated with the natural hydrator, milk, which is loaded with minerals and melatonin. This creamy soothing gel provides a skin extra silkuly softness with milky bright complexion..🐌 SNAIL SOOTHING GELExcellent hydrating property of the snail slime extract immediately supplies moisture and nutrients to the skin and soothes skin troubles or irritations..I read the ingredients, and this soothing gel has 5 free formula : Free of Paraben, Tar & Artificial Colorant, Mineral Oil, Benzophenone and Benzyl Alcohol. Which is, not important and risky enough for our skin..I use Milatte Fashiony Soothing Gel everytime i need, after take a bath, when i feel uncomfortable with the heat and when i feel my skin getting dry. It's not only give a cooling sensation, but absorbing quickly without stickiness with super fresh scent..If you want to buy this product, use AIYUKI8's Exclusive Offers through :
https://hicharis.net/AIYUKI..@hicharis_official
@charis_celeb
#milatte
#fashiony
#soothinggel
#CHARIS
#hicharis
#CharisCeleb
#KoreanBeauty
#KBeauty
#Korean
#KoreanMakeup
#BeautyBlogger
#BeautyVlogger
#clozetteid
#Makeup
#Cosmetics
#style
#Blogger
#Blog
#Beauty
#girls
#メイク
#makeup
#style
#girl
#beauty
#kawaii
+ View more details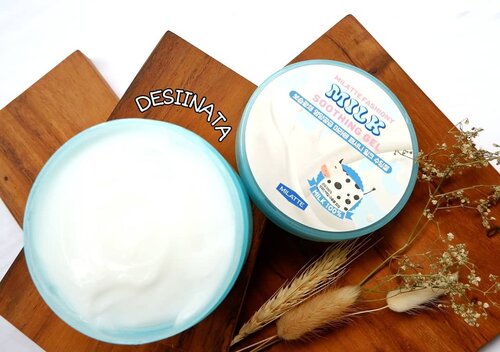 Umumnya soothing gel dari Alove vera tapi berbeda dengan Millate Fashiony karna terbuat dari SUSU , soothing el untuk berkulit sensitif / mudah bermasalah yg berfunsgi menenangkan serta melembabkan kulit , mudah terserap oleh kulit dengan 100%Kemurnian protein susu dengan berbahan tambahan lainya yaitu HA, extract Centela Asiatica, Extract mentimun, extract pursiane _REVIEW ///So far ketika aku gunakan dikulit bagian tubuh , kulit terasa halus, lembut dan lebih lembab , dan lebih menenangkan untuk kulit. untuk kulit wajahku yg berminyak dan sensitif saat ini perubahan yg timbul pada wajahku mncul brutusan dan so far tapi kulit terasa lembab. Mgkn untuk sebagai kulit seperti aku ada faktor tertentu menyebabkan hal tsb tapi tidak untuk kalian mungkin cocok karna teman lainnya aku rekomendasi ini sangat cocok. Dan untuk menemukan Milatte Fashiony Milky di applikasi @hicharis_official di android/apple storeatau klik link ini untuk rekomendasi promo saat ini - Soothing Gel POT 300ml
https://hicharis.net/desiinata/Kmu
#milatte
#fashiony
#sootinggel
#CHARIS
#hicharis
@hicharis_official @charis_celeb @charis_celeb....
#clozetteid
#kbeauty
#코덕 #코덕스타그램 #코덕맞팔 #인스타뷰티 #뷰티스타그램 #얼스타그램 #셀카 #셀피 #좋아요반사
#likeforlikes
#likeforlike
#likeforfollow
#맞팔 #선팔하면맞팔
+ View more details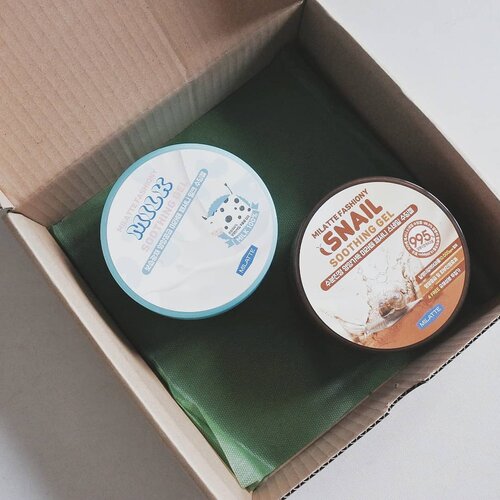 The soothing gel hype isn't over! Beside the infamous Aloe Vera Soothing Gel, @sunhyang_cos Milatte Fashiony has another variant such as Tomato, Snail, and Milk Soothing Gel.
I've tried the Milk & Snail one. Here's my quick review on them ⭐ • Packaging • They comes with a big, bulky 300gr jar packaging, enough for 3 to 4 months usage. Include a plastic separator inside but no applicator such as spatula. You can depot the inside on smaller jar for traveling. • Texture • I could say it's a gel type, but the consistency is not watery like another soothing gel. It sits perfectly on your skin and easy to spread. Swipe to see the details on the texture. • Fragrance • Not really my cup of tea. The Milk Soothing Gel smells like yoghurt, but it's pretty artificial. The smell of the Snail Soothing Gel is rather subtle. • Aftermath • After application, my skin feels a little bit tacky. The sensation disappear after a couple of minutes. There is no cooling sensation, but they could work better if stored on refrigerator before. I love using them on my body and as a hair mask rather than applied them directly to my face.
If you are looking for light moisturizer, Milatte Fashiony Soothing Gels is perfect for you. Buy them on my Charis Shop here
https://hicharis.net/annisapertiwi/JNm
😊
#milatte
#fashiony
#soothinggel
#CHARIS
#hicharis
@hicharis_official @charis_celeb
#charisceleb
#vsco
#clozetteid
#skincarereview
#skincareenthusiast
#skincarejunkie
#beautyblogger
#beautybloggerindonesia
#kbeauty
#kbeautyenthusiast

+ View more details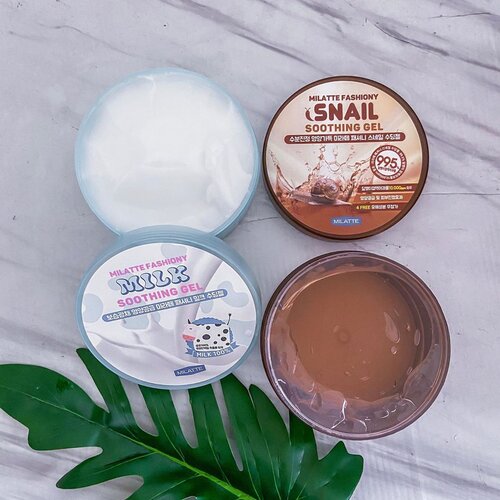 Habis cobain Soothing Gel POT 300ml milk and snail from @charis_celeb 😍. My favorite itu yang milk!! Sumpah wangi susu banget, udah gitu ga lengket, langsung menyerap di kulit juga, terus dia bener2 soothing kulitku juga. Selain itu soothing gel ini tuh aman dan bisa di pake di badan & muka. Kedua nya punya kegunaan yang sama cuma beda nya 1 milk 1 snail 😎. Aku punya special price buat kalian! Cuma 100K aja 1 pot nya!! 👌🏻💯✨ bisa click link di bawah ini atau di bio aku 😘 👇🏻
http://hicharis.net/Reginabundiarti/K0h
#milatte
#fashiony
#soothinggel
#CHARIS
#hicharis
@hicharis_official @charis_celeb
#clozetteid
#snail
#milk

+ View more details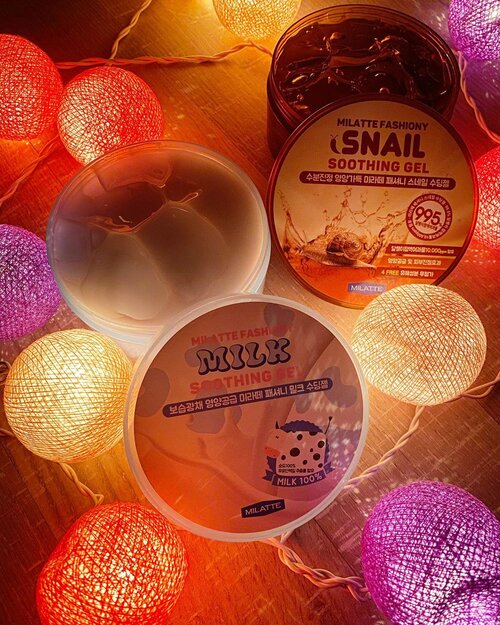 + View more details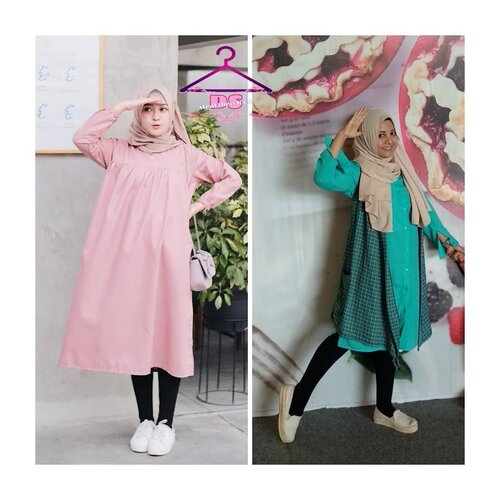 + View more details
loading ...
Back To Top